I always enjoy baking for the holidays, and Easter is right up there with Christmas in my book. A few months ago, I stumbled upon a cute set of cookie cutters that included flower, carrot, and bunny shapes.  I knew I had to have them for Easter!
I had trouble saving the cookie cutters for Easter, though, and I used the flower shape to make my Thanks a Bunch cookies a little while back.  I managed to contain my excitement, though, and save the carrot and the bunny shapes for this week.  I also made some Easter eggs, as well.
This time around, since the cookies are for friends and family and aren't going to be mailed across the country, I decided to make softer cookies than the vanilla bean cookies I made before. Instead of using sour cream, I used some of the Greek yogurt that I had in the fridge.  I also decided to go with a vanilla almond flavor, so added some ground almond flour to the dough in addition to the almond extract. I find that adding ground nuts to a recipe (just substitute for a bit of the flour in the original recipe) is a fun way to adapt existing cookie recipes and add new flavors.
I decorated all of the cookies with royal icing – first using flood icing to get a base layer of color and then piping stiffer icing on top the next day to add all of the details.  I'm finding that each time I make cookies the icing is getting a bit easier for me, which makes me super happy… But, there's definitely still some room for imrprovement!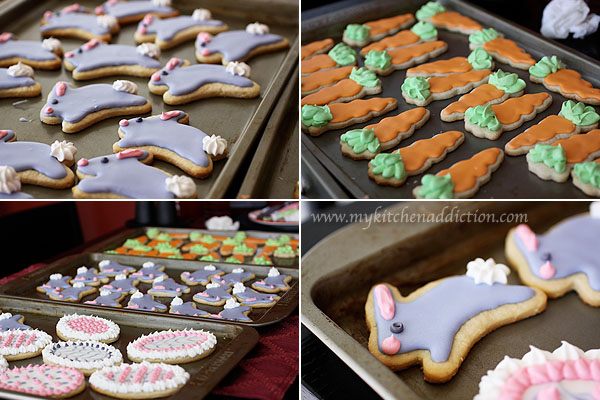 Once all of the cookies were done (and had dried overnight), I packaged them up in clear cellophane bags and tied them with curling ribbon.  Now they are ready to go into everyone's Easter baskets!
Vanilla Almond Sugar Cookies
1 cup unsalted butter, softened
1 cup granulated sugar
1 egg
1 teaspoon vanilla extract
1 teaspoon almond extract
1 cup almond flour (ground almonds/almond meal)
3 1/2 cups all purpose flour
2 teaspoons baking powder
1/2 teaspoon salt
6 ounces non-fat Greek yogurt (plain or vanilla)
Preheat the oven to 350°F.  Line baking sheets with parchment paper (or lightly grease) and set aside.
Cream together the butter and sugar until light and fluffy.  Add the egg, vanilla extract, and almond extract, and beat until fully incorporated into the creamed mixture.
Meanwhile, combine the almond flour, all purpose flour, baking powder, and salt in a separate bowl. Gradually add in the dry ingredients into the creamed mixture, alternating with the Greek yogurt. Be sure to start and end with dry ingredients. Mix just until a dough forms.  Shape the dough into a disk, wrap in plastic, and refrigerate for 30 – 60 minutes.
Once the dough has chilled, roll out on a floured surface (or between two sheets of parchment) to about 1/4-inch thickness. Use cookie cutters to cut shapes from the dough and place them on the prepared baking sheets.  Bake for 10-12 minutes, until the cookies are slightly golden.
Allow the cookies to cool slightly on the pan before transferring to a wire rack to cool completely. Decorate with icing, if desired, once the cookies are completely cooled.