The first summer after we were married, my husband and I bought a grill… It quickly became our favorite way to cook whenever the weather was nice.  Sadly, that grill died last summer. It had a nice life in our back yard, and we got lots of use out of it… But, there was no salvaging it.
Last week the warm weather started to get to us, and we just wanted to be outside grilling.  So, we went and picked out a shiny new grill (which happens to be RED, too… here's a picture!). Once I had the grill, I knew I had to come up with a fun new recipe to try out on it. After all, I couldn't just make any of my usual dishes for the first official grilling of the year!
So, I decided to make some teriyaki turkey burgers with my own homemade chunky teriyaki sauce. Don't worry, the burger recipe will be coming soon, but I didn't want to hit you with too much at once today. Let's just start with the teriyaki sauce!
The sauce is easy to make and is pretty versatile. It is great for basting on the grill or to use as a dipping sauce.  You could also use it as a marinade sans corn starch (and you probably wouldn't even have to cook it, either!). I used it for the burgers and had plenty leftover to make some simple teriyaki chicken skewers a few days later.
Chunky Teriyaki Sauce
8 ounce can of crushed pineapple in juice
1 tablespoon brown sugar
1 tablespoon fresh ginger, minced
2 cloves garlic, minced
1/2 cup mirin
1/4 cup soy sauce
1 teaspoon corn starch
Combine the pineapple, brown sugar, ginger, and garlic in a small saucepan.  In a separate bowl, whisk together the mirin, soy sauce, and corn starch to remove any lumps.  Add to the pineapple mixture in the sauce pan.  Bring to a boil, then reduce to a simmer until the sauce is thick.
Serve as desired.  The sauce can be stored in an airtight container in the fridge for a few days.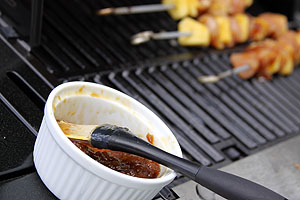 To make the skewers, alternate fresh pineapple chunks and pieces of chicken breast on skewers. Cook on the grill over medium heat, basting with the teriyaki sauce.
Don't forget about my $25 Cooking.com gift certificate giveaway… Find out all of the details in my update about the Food Bloggers Bake Sale.  You have until Saturday night to enter!