We've had some unusually warm hot weather this week… It's been in the 80s and 90s in the afternoons! I like each season as it comes, but I have to say that summer is probably my least favorite. I love spring, but when th hot sticky weather of summer arrives, it wears me out!
So, I've been dragging a bit this week due to the sudden summer weather… It's hard to find the motivation to heat up the oven and do some baking! Instead, I've been making some simple (cold) dishes, and doing some grilling outside.
Last evening, I made some teriyaki turkey burgers (more about those in a few days…) and I wanted something quick, easy, and cool to go along side of them. I remembered this great cucumber salad from Savory Sweet Life that I made quite a few times last summer. I just love it, and I think it's the perfect side salad on a hot day.
This time around, I had some snap peas in my fridge, so I decided to add them to the salad.  I also chose to use some brown sugar instead of granulated sugar. I'm not sure that my salad is authentic in any way (thus Asian "inspired")… But it uses some of my favorite Asian ingredients, and I was pleased with how it turned out. In fact, my husband even enjoyed it and had seconds… That's a good sign!
Asian Inspired Cucumber Salad
(adapted from Savory Sweet Life)
2 cucumbers, cut into matchsticks
2 carrots, cut into matchsticks
4 ounces sugar snap peas, trimmed and cut into thin strips on a diagonal
2 tablespoons brown sugar
1/2 cup rice vinegar
1/2 teaspoon chili garlic paste
Use a mandolin (or just a chef's knife) to slice the cucumbers and carrots into matchsticks.  Slice the sugar snap peas and combine them with the cucumbers and carrots in a large bowl.
In a small microwave safe bowl, combine the brown sugar and vinegar.  Microwave on high for 30 seconds, and then whisk to dissolve the brown sugar in the vinegar.  Stir in the chili garlic paste.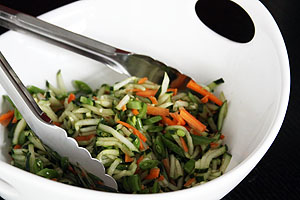 Pour the vinegar mixture over the vegetables in the bowl and stir to toss the salad in the dressing.  Cover and refrigerate for at least 30 minutes.  Serve chilled.