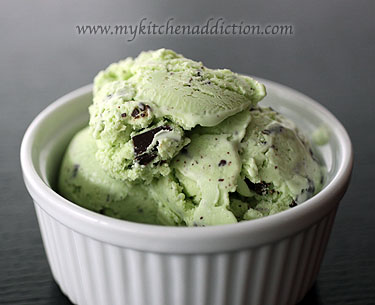 You may be wondering why I specified that this is 100% homemade ice cream. After all, I usually make everything from fresh ingredients and bake from scratch… That's nothing new.  Well, here is something that is new… Sundays with Sandy!
Earlier this afternoon, I jumped in on a Twitter conversation between Marye from Restless Chipotle and Kelly from Evil Shenanigans.  They were chatting about seeing Sandra Lee on TV (on a channel other than the Food Network). Well, the conversation immediate turned South (no pun intended since both Marye and Kelly are from Texas). Let's be honest… The only reason to try one of Sandy's recipes is for a good laugh.  So, we decided to share the fun with all of you with our new semi-challenge group Sundays with Sandy! Each month we will be choosing a Sandra Lee recipe to "test" – complete with tablescape, cocktails, and matching outfits.  For the full set of rules, check out Marye's post.  You're not going to want to miss it. The first recipe, Chicken Fried Steak with Gravy, will be posted on May 16th!
In the meantime, I will continue to post my homemade, from scratch recipes, because that's how I roll. I got an ice cream maker as a gift a few years ago, and I have tried quite a few different recipes for homemade ice cream.  For some reason, I would always try the "easy" recipes (basically milk, cream and sugar), and I would never be happy with the taste or consistency. As a result, I didn't use the ice cream maker all that much.
Over the weekend, my parents were coming over for dinner, and I was looking for something to make for dessert that would go well with my last minute Daring Bakers recipe (which you will see tomorrow).  It occurred to me that I should try a new ice cream recipe.  Instead of a shortcut recipe, I decided to do it right and make a custard for my ice cream base. It's not really that hard… I'm not sure why I never bothered to do it before, but it's definitely the way to go. The ice cream was nice and creamy (and tasted GREAT), and it froze beautifully. I think my ice cream maker will be working much harder this summer now that I have figured out the secret to great ice cream!
Mint Chocolate Chip Ice Cream
2 cups heavy cream
1 1/2 cups whole milk
3/4 cup granulated sugar
4 large egg yolks
1 teaspoon vanilla extract
1 1/2 teaspoons mint extract
Few drops green food coloring (optional)
3 ounces good quality bittersweet chocolate (I used Scharffen Berger)
Start by bringing the cream and milk to a simmer in a heavy bottomed pot over medium-low heat.  Stir occasionally, and do not allow the mixture to boil.
Meanwhile, use a hand mixer to beat the granulated sugar and egg yolks until the mixture becomes smooth and thick, and lightens in color. While the mixer is still on, add 1 cup of the hot milk and cream to the eggs to temper them.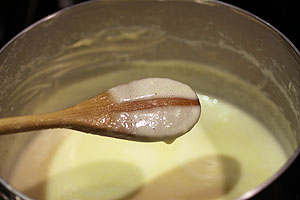 Transfer the egg mixture back into the pot, and continue to cook until thickened.  The mixture will coat the back of a spoon.  Remove from the heat, and stir in the extracts and food coloring. (Food coloring is optional, but I just can't imagine eating mint chocolate chip ice cream that's not green).
Transfer the mixture to a bowl, and cover with plastic wrap.  Be sure to press the plastic wrap down to the surface of the custard to prevent a skin on top. Refrigerate overnight (or at least until the custard is chilled).
Freeze the custard using an ice cream maker until it is about the consistency of soft serve ice cream.  In the last few minutes of processing the ice cream, finely chop up the chocolate and add it to the ice cream. Transfer the ice cream to an airtight container, and freeze for a few additional hours to allow it to harden.