My husband and I really aren't beer drinkers. It's not that we haven't tried, because we have. We just prefer wine (and I haven't met a mojito I didn't like). The thing is, we go through stages where we pick up a six-pack from a local brewery thinking that maybe we will discover the one beer that we actually do like, but we rarely do. Instead, it ends up hanging out in the fridge for a while.
So, yesterday I decided I was going to use up some of the strawberry wheat beer from Lancaster Brewing Company that was taking up space in my fridge.  I used one bottle to make a barbeque sauce for some shredded chicken in my slow cooker. That wasn't enough, though. As I was paging through my King Arthur Flour Whole Grain Baking Cookbook, I noticed a recipe for Micro-Brew Honey Wheat Bread.  I knew it would make some delicious rolls to go with my barbeque shredded chicken, so in a matter of minutes I was mixing up a batch of bread dough… Two bottles down, three to go!
I have been adding my milled golden flax to everything lately, so I decided to incorporate it into my rolls, as well.  It adds some extra nutrients and you won't even notice it's in there.  In fact, this bread was so moist and light that you'd hardly know that it was healthy, made with flax and whole wheat flour… It can be our little secret.
Speaking of flax, there's still time to enter my FlaxMatters.com giveaway!  You have until Friday at 10:00pm EST to enter to win some great products from FlaxMatters.com… Just head on over to last week's Ten in 10 Update post for all of the details. I'll be announcing the winner in my Ten in 10 post this Saturday!
Honey Beer Bread
(Adapted from King Arthur Flour Whole Grain Baking Cookbook)
3/4 cup strawberry wheat beer (or your favorite light/amber micro-brew), at room temperature
1/4 cup orange juice, at room temperature
3 tablespoons honey
1/4 cup canola oil
2 teaspoons dry active yeast
2 cups white whole wheat flour
1 cup unbleached bread flour
1/2 cup milled golden flax
1 teaspoon salt
1 egg
In a large mixing bowl, whisk together the beer, orange juice, honey, and canola oil.  Add the yeast, and whisk until it is completely dissolved in the liquids.
Add the flours, flax, and salt.  Stir with a wooden spoon until a dough forms and begins to pull away from the sides of the bowl.  Use your hands to knead the dough until smooth (I did this in the bowl to contain the mess and avoid too much cleanup, but you can turn the dough out onto a floured surface, if you prefer).
Shape the dough into a ball and transfer to a lightly greased bowl.  Cover with a damp towel or plastic wrap, and let rise until doubled in size (about 1 1/2 – 2 hours).  Punch down the dough, and shape it into one loaf or eight rolls. If you make a loaf, place it in a lightly greased bread pan. If you are making rolls, place them on a lightly greased baking sheet or a baking sheet lined with a silicon mat.  Cover and let rise for an additional hour.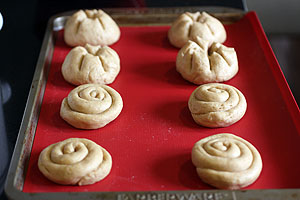 Towards the end of the second rising, preheat the oven to 350°F. Whisk the egg with a few drops of water, and use a pastry brush to brush the rolls or the loaf with the egg wash.  Bake uncovered – 30-35 minutes for a loaf and 15-20 minutes for rolls.  The bread is done when the internal temperature is 190°F.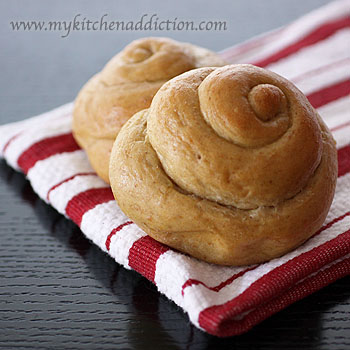 Allow the bread to cool completely (removing from the pan when cool enough to handle and cooling on a rack) prior to slicing. Enjoy!
My Kitchen Addiction Product Review Policy and Disclosure– I received this product (milled golden flax) at no cost from the manufacturer (or a representative PR firm) for the purpose of testing and reviewing the product. Unless specified otherwise, I do not accept monetary compensation for reviewing or writing about products. I only review products that I have personally tested and used in my kitchen/home, and all opinions expressed are my own.