What do you get when you mix guacamole with edamame dip? Guaca-mame, of course! At least, that's what my hubby called it while sampling this culinary experiment.
It all started when I saw this Quick and Easy Edamame Dip over at La Fuji Mama (isn't she brilliant?)…  I love edamame, and I loved the idea of using shelled edamame to make a hummus-like dip. The problem was that my usual grocery store doesn't carry edamame in pods.  While I like edamame, I don't like it enough to shell it myself to make a dip.  Call me lazy… I'm OK with that.
Fortunately, this weekend my hubby and I took a bit of a road trip to Wegmans.  (Ok… So it was only 25 minutes away, but we had to cross the river. That's a big deal in PA. And, let's not even talk about how disturbing it is that I take road trips to go grocery shopping!)  Lucky for me, as I meandered through the store, I spotted some frozen shelled edamame. I knew some edamame dip was in my near future.
Of course, I couldn't simply make the edamame dip and leave well enough alone. What fun would that be? I had a beautiful ripe avocado on hand, so I decided to put my spin on the edamame dip and go in a bit of a Mexican direction (I do that a lot). Adding the avocado added a nice buttery richness to the dip (with healthy fat, of course). I'll be making this again very soon… As soon as I finish eating what's left in the fridge and head back to Wegmans for some more edamame!
Guaca-mame (Avocado and Edamame Dip)
12 ounces frozen shelled edamame, thawed
(see this great tip from La Fuji Mama for thawing the edamame)
1/2 cup fresh cilantro leaves, packed
1/2 red onion, roughly chopped
1 avocado
2 limes, zest and juice
1 teaspoon ancho chili powder
1/2 teaspoon Kosher salt
2 tablespoons extra virgin olive oil
Combine the edamame, cilantro, and onion in the food processor. Pulse until finely chopped.  Add the avocado, lime juice and zest, ancho chili powder, and salt.  Pulse until smooth, gradually streaming in the olive oil until the dip comes together.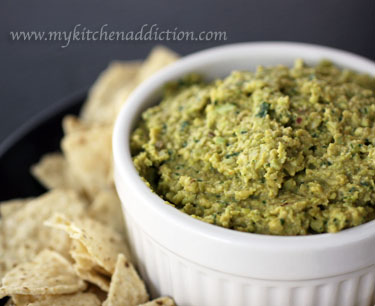 Chill for at least 30 minutes.  Serve with tortilla chips, and enjoy!