Who would have known that giving away decorated cookies would turn into a minor baking crisis? It's not like I've never made cookies before… Far from it!
If you read my blog (or follow me on Twitter), you have probably figured out that I'm not a chef.  I haven't had any formal culinary training, and most of what I know (or think I know) has come from experience – cooking with my mom, reading books, and watching countless hours of cooking shows.
Despite my lack of formal training, I usually do pretty well (get pretty lucky) in the kitchen, not letting new recipes and techniques intimidate me.  For some reason, though, I had a bit of a meltdown this weekend when I was beginning to make the cookies for my giveaway. You see, my usual sugar cookie recipe yields pretty soft cookies. They are delicious, but I was afraid they'd be a big mess of crumbs by the time they were delivered to my cookie winner.  So, I set out to pick a new recipe.
The problem was, I wasn't sure which recipe to pick. In particular, I had two recipes that were almost identical except for the fact that the amount of flour in the two recipes varied pretty drastically.  After much help from quite a few friends on Twitter (you'll find that my wonderful friends on Twitter has saved quite a few of my recipes… just sayin'), I settled on a recipe from one of my favorite books – Ratio by Michael Ruhlman.  I did use a bit more flour than the recipe originally called for, and I mixed it up with some vanilla bean paste (yes, I'm addicted to that stuff). After I figured out my recipe, I also happened to notice that it was close to the recipe that Bridget from Bake at 350 (my fellow Cake Off teammate and all-around amazing baker) happens to use, which made me feel much better… I knew I was on the right track, so I set off and got to baking.
The cookies turned out beautifully, and as always, I loved the pretty flecks of vanilla bean.  I did my best with the decorating (thanks to quite a bit of inspiration and encouragement from both Gail and Bridget!), but I think we will all agree that I shouldn't quit my day job to start baking cookies quite yet!
Vanilla Bean Sugar Cookies
(adapted from Ratio by Michael Ruhlman and Bake at 350)
3 cups all purpose flour
2 teaspoons baking powder
1 teaspoon salt
1 cup unsalted butter (2 sticks), softened
1 cup sugar
1 egg
1 heaping teaspoon vanilla bean paste
Preheat the oven to 350°F.  Line baking sheets with parchment or lightly grease, and set aside.
Whisk together the flour, baking powder, and salt in a bowl.  Set aside.
In the bowl of your stand mixer, combine the sugar and the butter.  Beat on medium speed until the mixture is light and fluffy, 3-4 minutes. Add the egg and vanilla bean paste, and beat on medium speed until incorporated, an additional minute or so.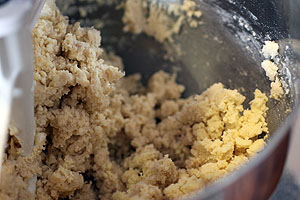 Gradually add the dry ingredient, mixing on low speed. The mixture may be a bit dry and crumbly once all of the dry ingredients have been incorporated.  Don't worry, the dough will come together after refrigerating.  Shape the dough into a disc, wrap with plastic wrap, and refrigerate for 20 minutes.
Once the dough has chilled, roll it out in batches until it is about 1/4 inch in thickness.  Use cookie cutters to cut out cookies, and place on the prepared baking sheets.  Bake for 10 – 12 minutes, until slightly golden.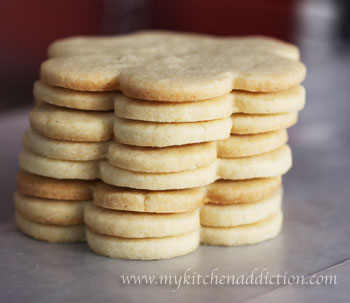 Cool on the baking sheets for a minute or two, and then transfer to wire racks to cool completely.
Frost/decorate as desired (for a great tutorial on royal icing, check out these tips from Bake at 350!).  I decorated my cookies using royal icing, and then wrapped them in small cellophane bags.  They're now packed and on their way to Beth!