I have to admit that I've been feeling like I'm in a bit of a blogging slump again lately. I seem to have lost some steam since my trip to NYC.  As a result, I'm not feeling especially "wordy" as I write this week's Friday Favorites.  So, let's get right down to business…
The first order of business for this week's Friday Favorites is to announce the winner of my cookie giveaway!  Thanks to everyone who voted for the Take a Bow cake and helped me to raise money for the Ovarian Cancer Research Fund through Kelly's Cake Off for a Cause sponsored by Electrolux!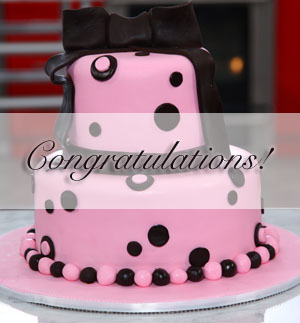 And the winner is… Bethie of VA!
Congrats!! I will be baking and decorating your cookies this weekend (and will take a few photos for everyone to see before I ship them off… You've come to expect that, right?)! Thanks so much for helping me to support OCRF!
The second order of business is for me to tell you about my favorite blog posts from the past week! I love my sweets, but I've had my fill between all of my sweet treats in NYC and Valentine's Day, so I'm picking all savory dishes this week.  Enjoy!
My Kitchen Addiction Disclosure – My participation in Kelly's Cake Off for a Cause was sponsored by Electrolux and Foodbuzz who provided me with travel arrangements and accommodations in New York to participate.