Thanks for stopping by!  Help yourself to some appetizers and have a look around…
You've probably noticed that things around here have been looking a bit different lately! I have spent the past week redesigning the site (now powered by the Headway Theme, as recommended by John Haydon) and adding lots of new pages and information (all of which are also available from the new navigation bar across the top):
Now… Let's talk about those appetizers!  For this month's Gourmet, unbound recipe, I picked out this Winter Caprese Salad from the January 2009 issue of Gourmet.  I have been on a roasting kick and am currently in love with roasted tomatoes, so it seemed like the perfect recipe! Instead of making a layered Caprese salad, I decided to cut the mozzarella into chunks and make little Caprese bites to serve as appetizers instead.  We enjoyed these last night as we celebrated New Year's Eve with friends!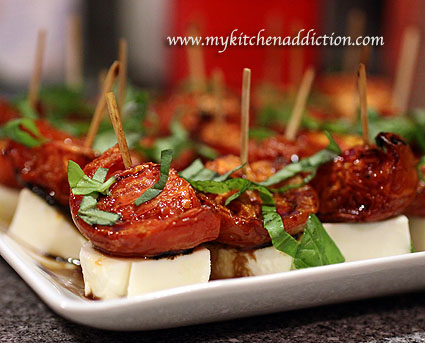 Caprese Bites
(adapted from Gourmet, January 2009)
1 pound plum tomatoes, cut into bite-sized chunks
2 tablespoons extra virgin olive oil, plus additional for drizzling
Kosher salt
Freshly ground black pepper
1 pound fresh mozzarella, cut into bite-sized chunks
Handful basil leaves
Balsamic vinegar for drizzling
Toothpicks
Preheat the oven to 400°F.  Line a baking sheet with foil and spray with a thin layer of cooking spray.
Combine the tomatoes and olive oil in a mixing bowl.  Season generously with salt and pepper, and toss to evenly coat the tomatoes.  Spread the tomatoes on the prepared baking sheet and roast for approximately 45 minutes.  Allow the tomatoes to cool before assembling the Caprese bites.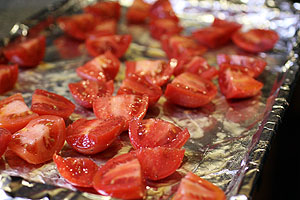 Once the tomatoes are cooled, assemble each bite by placing one piece of tomato and one piece of mozzarella on each toothpick.  Arrange the bites on a platter and drizzle with extra virgin olive oil and Balsamic vinegar.
Cut the basil in a chiffonade, rolling the basil lengthwise and cutting very thing strips.  Sprinkle the basil over all of the bites, and serve immediately.  Enjoy!