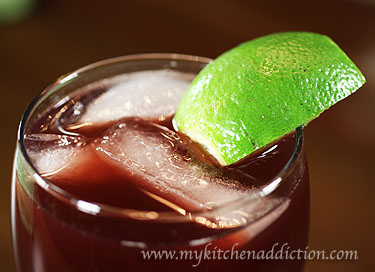 A few months ago, I decided to stop buying diet soda.  My husband and I used to drink a lot of it, but we are now living diet soda free!  I was always somewhat skeptical of the artificial sweeteners and knew that drinking a lot of soda really wasn't good. It was a huge decision, but I think we are both better off as a result!
Instead, we drink a lot of water.  I also started brewing my own iced tea to mix it up a bit and keep things interesting!  I typically drink my iced tea unsweetened with a lemon wedge, but once in a while I will jazz it up a bit more with 100% fruit juices and natural sweeteners.
I still had a few bottles of POM Wonderful 100% Pomegranate Juice in my fridge (thanks to the great people at POM Wonderful who sent me some samples), so I decided to make a refreshing iced tea.  With some fresh lime juice, and a splash of citrus rum, it was an antioxidant packed refreshing treat one evening while preparing dinner.  Of course, the rum is optional.
Pomegranate Lime Tea
(Makes one glass. Measurements are approximate – just eyeball it!)
1/2 cup POM Wonderful 100% Pomegranate Juice (1/2 bottle)
1/2 cup tea, chilled
1/2 lime + additional wedges, if desired
Agave syrup, to taste
Citrus rum, just a splash (optional)
Ice cubes
Combine the pomegranate juice and tea in a large glass or tumbler.  Squeeze the juice from the lime half into the drink.  Add a teaspoon or so of agave syrup, adjusting to your taste.  Add a splash of citrus rum (optional).  Add ice cubes and garnish with a lime wedge.  Enjoy!
My Kitchen Addiction Product Review Policy and Disclosure– I received this product at no cost from the manufacturer (or a representative PR firm) for the purpose of testing and reviewing the product. Unless specified otherwise, I do not accept monetary compensation for reviewing or writing about products. I only review products that I have personally tested and used in my kitchen/home, and all opinions expressed are my own.