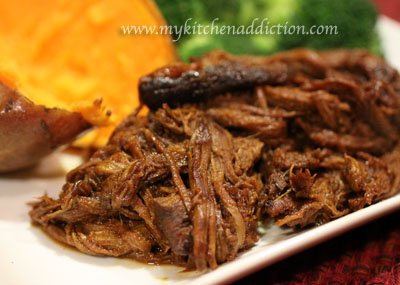 Now that my blog has hit the one year mark, I have been thinking about going back and re-doing a few of my older recipes.  I love creating new recipes, but sometimes it's nice to make something familiar. So, in the coming months, you may see a few re-makes of some of my favorite recipes. I rarely follow recipes exactly (that goes for my own recipes, too)… So, I won't be posting the exact same recipes over again.  Instead, I'll be going back through some of my favorites and adding a new twist.
The first recipe I chose to re-visit was my Shredded Beef Tacos. Don't get me wrong, I don't really think there was a problem with my original recipe.  In fact, it's quite the opposite. It's one of my favorites, and I have made it quite a few times since I posted it! It's pretty quick to prepare in the morning, and slow cooking the beef all day long yields tender, juicy meat that just melts in your mouth. Oh, and did I mention how awesome it smells all day as it cooks? Yeah, that's not bad either.
This week, I decided to make shredded beef again, but I wasn't in a spicy taco mood.  Instead, I decided to go make a barbeque version. After searing the beef, I used the drippings to create a thick and flavorful barbeque sauce in the pan.  The BBQ shredded beef is delicious on its own (we had it for dinner with baked yams and steamed broccoli), but it would also be great in sandwiches with some cole slaw on top.  Even though I'm usually just cooking for my hubby and I, I usually make a large batch so we have lots of leftovers for quick dishes later in the week – the possibilities are endless!  Stay tuned, you may just see a few leftover recipes in the days to come…
BBQ Shredded Beef
2 tablespoons extra virgin olive oil
3 pound beef roast (chuck roast, top round, or sirloin tip roast are what I typically use)
3 cloves garlic, minced
1 yellow onion, diced
1/2 cup apple cider vinegar
6 ounce can of tomato paste
1/2 cup dark molasses
1/4 cup Worcestershire sauce
1 tablespoon smoked paprika
2 tablespoons prepared mustard
1-2 tablespoons dark brown sugar
Kosher salt
Freshly ground black pepper
Heat the olive oil in a large, heavy skillet over medium-high heat.  If desired, trim the beef roast of any excess fat. (Trimming the fat is a matter of preference. Leaving the fat on will add some flavor, but I prefer to trim mine to reduce the amount of fat in the dish.)  Season the beef with salt and pepper.
Sear the beef in the preheated skillet, cooking for a few minutes on each side, so that each surface caramelizes for extra flavor and texture.  Resist the urge to flip the beef a lot.  Once the beef has been seared on each side, transfer the roast to the slow cooker.
Reduce the heat on the pan to medium, and add the garlic and onions.  Saute for a few minutes, stirring constantly, until the onions soften and are translucent.  Add the vinegar to the pan to deglaze, scrapping up any browned bits from the bottom of the pan.  Simmer the vinegar until it has reduced to approximately half of the volume that was added.
Add the tomato paste, molasses, Worcestershire sauce, smoked paprika, and mustard to the pan, and stir to combine until a thick sauce forms.  Add the brown sugar, adjusting the amount to your taste.  Season with salt and pepper to taste.
Pour the sauce down over the seared beef in the slow cooker.  Cook on low for 7-8 hours. After the beef has cooked, remove from the slow cooker and use two forks to shred. Return the shredded beef to the slow cooker and stir to coat with the BBQ sauce.  Cook for an additional 30 minutes before serving.