On the Sunday after Thanksgiving, I planned on making this stuffed pork tenderloin with the parmesan roasted potatoes that I made for Gourmet Unbound.  I wasn't feeling great, though, and the pork tenderloin never happened. So, about a week later, I finally got around to giving it a shot, but it turned out to be one of those recipes that was better in theory than when I actually made it.
On my first attempt, I had cheese oozing out in every direction and, while it tasted great, the recipe wasn't really worth posting.  I loved the flavor combination, though, so I decided to give it another shot.  I adjusted the amount of cheese/filling and also added some bread crumbs and egg to help keep everything in place. It worked perfectly!
I'm not going to be making dinner on Christmas day (although I will be making some scalloped potatoes as a side dish), but if I was, I think I would probably make this pork. The spinach and sage leaves in the filling give it a beautiful green color – perfect for Christmas! It looks fancy, but it's really quite easy. And, did I mention it's fabulous? Add some steamed asparagus and potatoes and you have a stellar holiday meal!
Spinach, Sage, and Prosciutto Stuffed Pork
2 ounces baby spinach leaves
3 large sage leaves
1/2 cup ricotta cheese
1 ounce Parmigiano-Reggiano cheese, freshly grated
1 egg
1/4 cup whole wheat seasoned bread crumbs
1 – 2 pound pork tenderloin
1/4 pound prosciutto, very thinly sliced
Kosher salt
Freshly ground black pepper
2 tablespoons extra virgin olive oil
In the bowl of a food processor, pulse the spinach leaves and sage leaves until roughly chopped. Add the ricotta cheese, Parmigiano-Reggiano cheese, egg, and bread crumbs and pulse until combined.
On a large cutting board, butterfly the pork tenderloin lengthwise. Make another cut into each half (from the center outward) making sure not to cut the whole way through, so that the two halves can be folded outward one more time.  When you are done, The pork will be four times the original width and about one forth of the original thickness. Cover with waxed paper/parchment paper and pound lightly to flatten and make sure the pork is the same thickness throughout.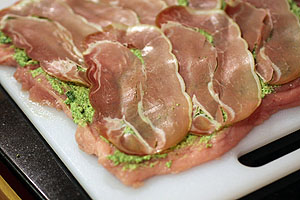 Season the pork with salt and pepper.  Spread the spinach, sage, and cheese mixture out in a thin layer on top of the pork.  Layer the prosciutto on top of the spinach mixture. Starting at one end, roll the pork tenderloin lengthwise to create a roll.  Secure with twine or skewers.
Preheat the oven to 350°F.  Meanwhile, heat the extra virgin olive oil in a large oven-proof skillet over medium heat.  Sear the pork tenderloin on each side in the skillet. Transfer the skillet to the oven, and bake for about 25 – 30 minutes.
Allow the pork to rest for 10 – 15 minutes prior to slicing to allow the juices to redistribute.