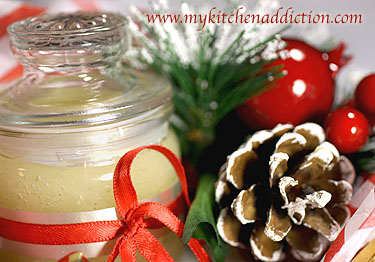 I have always enjoyed Christmas… ever since I was young. One of the things I love is putting together gifts for my friends and family. I don't go for the gift cards and large store bought gifts, though. I enjoy gathering small, thoughtful gifts and putting them together with homemade items in gift baskets that I assemble and decorate.  You won't find me buying a pre-assembled gift at a beauty store or in the line for gift wrap at the mall.
So, when C&H/Domino Sugar approached me about making something from the homemade gift section of their site, I was thrilled!  Just like many of you, my pantry is stocked with Domino sugar, especially at this time of the year.  My favorite is the dark brown sugar… I love the deep, rich molasses flavor in cookies!  So, it seemed only natural that I gave their homemade gifts a try.  They were kind enough to send me a $20 gift card to help with the cost, too!
As I checked out their gift ideas, I initially wanted to make some of the edible ornaments.  I love to decorate cookies, and I think there is nothing more beautiful than gingerbread cookies.  Besides, you can't beat the smell of them in the oven.  You may remember, though, that I have a yellow lab…  So, as you can imagine, edible ornaments on my Christmas tree wouldn't last long, and I'd have one sick puppy!
Since the edible ornaments were out, I decided to give the sugar scrubs a try instead.  I knew they would go perfectly in my gift baskets since there are quite a few women on my gift list.  After much debate, I finally settled on the White Cane Glimmer Sugar Scrub.  I was lucky enough to discover that the natural/organic section of my local grocery store had a rather large selection of essential oils, so I decided to use some peppermint oil in place of the lavender or orange that the recipe called for. Last year I had a bottle of peppermint stick lotion that I absolutely loved, so I decided to try to recreate that scent.  The lotion also had a hint of vanilla, so I decided to add some pure vanilla bean paste to the scrub as well.  Not only did the vanilla bean paste smell amazing, it added pretty little vanilla bean flecks to the sugar scrub!
I put the scrub into pretty little glass jars and tied them with some ribbon. Upon trying the sugar scrub, I realized that it would make a wonderful foot scrub, so I decided to go with a pedicure-themed gift basket.  Who couldn't use a little pampering around the holidays? Especially after you've been on your feet in the kitchen baking for hours on end.  So, I added a scrub brush, nail file, and a small bottle of red nail polish. I finished it off with some candy-stripe tissue paper and ribbon… and, of course, a candy cane!
I definitely recommend giving this one a try if you need a small gift for a gift exchange or if you just want a little pick-me-up for yourself!
Candy Cane Sugar Scrub
(Adapted from White Cane Glimmer Sugar Scrub)
1 cup Domino granulated sugar
1 cup vegetable oil
Oil from 1 vitamin E capsule
3-4 drops peppermint essential oil
1 teaspoon pure vanilla bean paste
Combine all ingredients in a mixing bowl and stir with a spatula until evenly mixed.  Transfer to airtight glass jars and decorate as you wish!
The contents may settle, so you will want to stir each time before you use the scrub. Apply 1-2 teaspoons of the scrub to your hands, and massage in a circular motion into your skin (like I said, it's especially wonderful for your feet!). Leave on your skin for 3-4 minutes (the scrub will tighten on your skin) before rinsing off.
My Kitchen Addiction Disclosure- I was provided with a $20 gift card to cover the cost of this homemade gift.  I only review products that I have personally tested and used in my kitchen/home, and all opinions expressed are my own.