Our yellow lab, Yellowdog, is the baby of the family.  My hubby and I don't have kids, but we consider her to be kind of like beta testing. Well, last week, I failed miserably as a doggy mother.  I don't know how, but I totally forgot about her birthday.
Normally we get her some treats and toys and put them in a giant gift bag.  She loves to stick her nose down into the bag to see what fun things she will find.  Problem is, now she has learned to stick her nose in gift bags.  That makes birthdays and Christmas quite interesting…  She goes around peeking in everyone's gifts!
So, to make up for forgetting her birthday, I decided to make some homemade doggy treats for her.  A little while ago, I saw this recipe for Natural Pumpkin and Peanut Butter Dog Treats from Delish.  I've been meaning to make it ever since, and I figured this was as good of a time as any. I did change the recipe up a bit, though.  My doggy shouldn't have wheat, so I used rye flour instead.  I also ended up making roasted squash puree instead of using canned pumpkin because it turned out that I didn't have any pumpkin on hand!
Yellowdog loved the treats! I used cookie cutters to make bone, heart, and lobster shapes…  Yes, lobsters.  I got a lobster cookie cutter in Cape Cod this summer, and I thought it would be cute to serve her lobster for her birthday.  Even if it was just a lobster-shaped cookie! Unfortunately, I didn't get any good photos of the lobster-shaped treats. You'll just have to take my word for it.
If you have any dog lovers on your gift list this year, I think these dog treats would make cute homemade gifts for the holidays.  Yellowdog will probably be giving them to some of her buddies!
Roasted Squash and Peanut Butter Cookies (For Your Dog)
(Adapted from Delish)
2 cups rye flour plus additional for rolling
1/2 cup rolled oats
2 eggs
3/4 cup roasted squash puree (see below)
3 tablespoons crunchy peanut butter
1/2 teaspoon salt
1/4 cup water
Preheat the oven to 350°F.  Lightly grease a baking sheet and set aside.
Combine all of the ingredients in a large mixing bowl. Beat together until a batter forms.  Transfer to a floured surface.
Roll the dough out to about 1/4 inch thickness.  Use cookie cutters to cut out shapes from the dough.  Place the shapes on the baking sheet.  The cookies will not spread much, so they can be placed closely on the sheet without much spacing.
Bake the cookies for about 30 minutes, until golden and crisp.  Cool completely and then store in an airtight container.
Roasted Squash Puree
To make the squash puree, I used two acorn squashes that I had from our CSA.  Simply cut them in half, scoop out the seeds, and then cut into large chunks. Place cut side down on an oiled pan and roast at 375°F for about 45 – 60 minutes (until soft).  Peel off the skins, and transfer the squash to a food processor.  Pulse until smooth.  If there is any excess moisture, place the pureed squash in a cheesecloth lined strainer and allow to drain prior to using.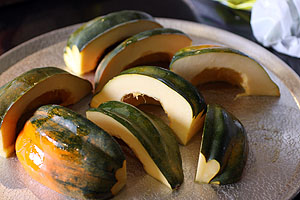 I used my Ninja Master Prep to puree the squash. It did the trick, but I did find that, like most food processors, it only worked efficiently when it was not filled above the blades.  Because the Ninja has a double blade, I was able to fill the container about 2/3 full. I did end up using bowl from the Ninja to store the excess puree, though.  While I thought I would never use it, the storage lid did come in handy because I was running low on tupperware!
By the way – I am still working on my full review of the Ninja.  I have been trying to incorporate it into my kitchen routine to give it a fair trial in comparison with my existing appliances.  You'll be reading about it soon enough!
My Kitchen Addiction Product Review Policy and Disclosure- I received this product at no cost from the manufacturer (or a representative PR firm) for the purpose of testing and reviewing the product. Unless specified otherwise, I do not accept monetary compensation for reviewing or writing about products. I only review products that I have personally tested and used in my kitchen/home, and all opinions expressed are my own.