We had a few chilly mornings last week which got me thinking about baked oatmeal.  It's kind of strange that I immediately wanted baked oatmeal, though, because I've never been much of an oatmeal eater – baked or not.  It just sounded like a nice warm treat after my early morning walks with our yellow lab.
Since I'm not normally an oatmeal fan, I didn't really know where to start with a recipe.  So, I appealed to my Twitterverse for recipe ideas, and Maria of Two Peas and Their Pod came to my rescue with her baked oatmeal recipe.  If you're not familiar with Maria's blog, you should really check it out.  She is always baking something delicious, and I knew that if she was recommending a recipe, it would be good!
Once I had a base recipe to work with, I set out to make my own version of the baked oatmeal.  Inspired by the chilly fall weather, I decided to make mine with pumpkin, dried cranberries, and chunks of apple.  I used vanilla soy milk instead of regular milk because I had some on hand, and I also threw in some wheat germ and walnuts for a nutty flavor.
The baked oatmeal was wonderful, and while I'm still not a fan of traditional oatmeal, I will eat this baked oatmeal any day of the week. I plan on making various seasonal versions of this baked oatmeal throughout the year now that I found a recipe that I like!
My husband wasn't really interested in it (he's not a big pumpkin fan), so I ended up keeping the leftovers in the fridge.  Before reheating them in the morning, I just poured a little bit of additional soy milk down over the top.  The additional milk kept the reheated oatmeal moist and delicious, even after a couple days in the fridge!
Pumpkin Cranberry Apple Baked Oatmeal
(Adapted from Two Peas and Their Pod)
2 cups old fashioned oats
1/3 cup wheat germ
1/3 cup dark brown sugar, packed
1 teaspoon cinnamon
1/4 teaspoon salt
1 teaspoon baking powder
1/2 cup dried cranberries
1 1/2 cups vanilla soy milk
1/2 cup pumpkin puree
1 1/2 tablespoons unsalted butter, melted
1 large egg, beaten
1 teaspoon vanilla extract
1 cup apple, chopped (I left the skins on)
1 cup walnuts, chopped
Preheat the oven to 375°F.  Spray a baking dish (I used my small glass baking dish – about 7×11 inches) with cooking spray and set aside.
In a large mixing bowl, combine the oats, wheat germ, brown sugar, cinnamon, salt, baking powder, and cranberries.  In a separate bowl, combine the soy milk, pumpkin puree, melted butter, egg, and vanilla, whisking until the mixture is smooth.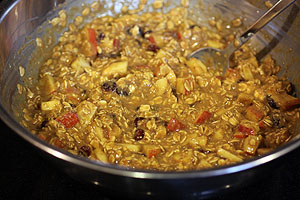 Pour the wet mixture into the dry mixture, and stir to combine all of the ingredients.  Add the apple and combine with the wet oatmeal mixture.  Spread the oatmeal into the baking dish, and sprinkle with walnuts.
Bake for about 20 minutes, until the oatmeal has set and the top is golden. Serve warm, topped with additional soy milk, if desired.