Baking homemade bread is becoming increasingly popular again, especially among bloggers…  If you don't believe me, just check out all of the amazing bakers participating in the Bread Baker's Apprentice Challenge!  While I don't have the baking chops to participate in the challenge, I have been learning to bake my own bread.
While I may have the greatest intentions of always making homemade bread, there are times where life just gets in the way.  It happens to all of us.  When it happens to me, I like to have good alternatives that I can turn to so that I do not have to sacrifice the quality of ingredients and nutrition simply because I don't have time to bake.
As I've mentioned before, I do turn down a lot of opportunities to sample prepared food.  I care a lot about the quality of the food that my husband and I eat, so I am pretty picky.  As a member of the Foodbuzz Tastemaker Program, I was given the opportunity to sample two loaves of Nature's Pride bread.  After a quick look at their site, I decided to take them up on their offer.  The ingredients in the bread are 100% natural, and none of their breads contain high fructose corn syrup or artificial preservatives.  Sounds pretty good, doesn't it?
I signed up to receive samples of the bread, and then got caught up in a busy week and forgot all about it.  I was pleasantly surprised when two loaves of bread, one loaf of 100% whole wheat and one loaf of 12-grain, were delivered to my door.  Since there are just two of us, I put the loaf of 12-grain bread in the freezer for later.  I placed the loaf of whole wheat bread on the counter, indicating that it was "fair game" for my husband.
Like I said, it was a busy week, and before I got around to photographing or formally reviewing the bread, the loaf was gone.  I made toast for breakfast, and my husband used it for his lunchtime sandwiches.  At that point, I was glad I had the foresight to put the second loaf in the freezer so that I would still have a chance to take a few pictures.  The fact that the bread disappeared so quickly, though, is better than any review I can write.  Store bought bread *never* disappears in my house.  In fact, I often end up making croutons and breadcrumbs with it (at least when I remember to use it before it turns moldy). I was amazed that the whole wheat bread disappeared from my counter in just a few days!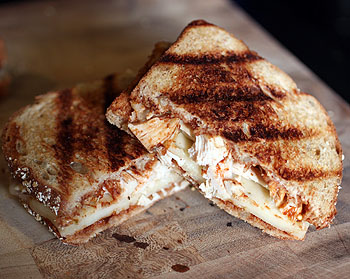 After the whole wheat loaf was gone, I waited for another busy week to pull the loaf of 12-grain bread from the freezer.  I decided to put it to my ultimate bread test – the panini.  I made some BBQ chicken panini for the hubby and I with the leftover lazy crockpot chicken and BBQ sauce that my hubby picked up in Cape Cod this summer.
The sandwiches were simple – BBQ sauce, chicken, and pepper-jack cheese on 12-grain bread. I grilled them on my grill pan, flattening with a panini press.  The sandwiches were toasty and delicious – perfect for the fall!
Overall, I was impressed by the bread.  Granted, it's not homemade, but I think it is probably the next best thing.  My only complaint is that I thought the slices were a bit on the thin side. I have that same complaint with most store bought bread. Since panini are one of my go-to, busy night dinners (and another good cure for cook's block), I tend to prefer thicker slices that stand up well to lots of sandwich toppings and fillings.  My BBQ chicken panini held together fairly well, though, so it's more of a preference than a problem.
Don't just take my word for it, though – do the research yourself!  Check out the Nature's Pride site and read about their products.  And, when you're having a busy week and don't have time to bake, consider trying a loaf of Nature's Pride bread!
My Kitchen Addiction Product Review Policy and Disclosure– I received this product at no cost from the manufacturer (or a representative PR firm) for the purpose of testing and reviewing the product. Unless specified otherwise, I do not accept monetary compensation for reviewing or writing about products. I only review products that I have personally tested and used in my kitchen/home, and all opinions expressed are my own.