In the past week or two, it seems that both our garden and our CSA have started booming with tomatoes. I have already frozen as much tomato sauce as I can possibly pack into my freezer.  So, I decided to tackle some tomato soup.  It might not sound like a big deal, but the bar was set high on this one.
You see, there's a local sandwich restaurant called Isaac's.  My husband and I go there for lunch occasionally, and when we do, he orders their creamy pepperjack tomato soup.  It's one of his favorites, and he's been asking me to try to make it at home for quite a while.  I've been avoiding it, but with all of the beautiful fresh tomatoes, I decided that it was time that I give it a try.
I am calling my soup Tomato, Pepper, and Jack soup because I used roasted peppers from my garden and monterey jack cheese instead of buying pepper jack cheese.  I figured I would take advantage of the opportunity to use up some of the peppers from the garden – who knew that one small pepper plant would produce so many peppers? It's been a challenge to use them all!
In the end, my hubby was pleased with my attempt at the soup.  He said that it didn't taste exactly like the original soup (which is no surprise, since I have never actually even tried it – I don't usually order soup for some reason), but he did really enjoy it! The recipe makes quite a bit – probably 6-8 servings (I ended up freezing some and squeezing it into the freezer).  It's delicious topped with some plain greek yogurt or sour cream (unfortunately, I discovered that after I had already taken the pictures) and a handful of crushed tortilla chips!
Tomato, Pepper, and Jack Soup
5 pounds tomatoes (I used a variety of plum, heirloom, and cherry tomatoes), cut into chunks
1 large red pepper
2 poblano peppers
3 jalapeño peppers
1 tablespoon extra virgin olive oil
1 onion, chopped
2 carrots, peeled and chopped
3 ribs celery, chopped
3 cloves garlic, minced
1 tablespoon smoked paprika
Kosher salt
Freshly ground black pepper
1 cup milk (I used 2%)
8 ounces monterey jack cheese
Preheat the broiler to high.  Place the peppers on a large baking sheet, and broil for about 30 minutes, turning once, until the outsides are charred. Remove the peppers from the broiler, and immediately transfer to a large bowl and cover with plastic wrap to allow the peppers to steam for 10 minutes. Peel the skins, remove the seeds, and mince the peppers. Set aside.
Place the tomatoes in a stock pot or a large dutch oven, and cook on medium heat until soft (approximately 10-15 minutes).  Use a food mill or a strainer to remove the skins and the seeds from the cooked tomato sauce.  Set the sauce aside.
In a large pot or dutch oven (I just rinsed my and wiped it out quickly after cooking the tomatoes), heat the olive oil over medium heat.  Add the onion, carrot, celery, and garlic, and saute for about 10 minutes, until the vegetables are soft.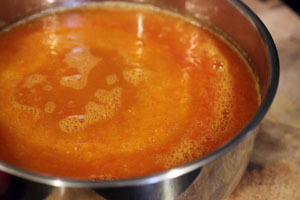 Add the smoked paprika, and season the vegetable mixture with salt and pepper.  Add the tomato sauce, and use an immersion blender to puree the mixture to your preferred consistency – I like my soup to be a little bit chunky. Add the roasted peppers, and stir them into the pureed soup.
Add the milk to the soup, and continue to cook for about 5 minutes.
Remove from the soup from the heat. Add the monterey jack cheese, and gradually stir into the tomato soup.
Serve immediately topped with crushed tortilla chips and your other toppings.