In last week's CSA share, we got another head of cabbage.  I'm always excited to pick up our share each week, but I can't say I was terribly thrilled with another head of cabbage.  I have been making various slaws and stuffed cabbages all summer long, and I wasn't really feeling all too inspired to use any more cabbage.
Fortunately, as I was paging through How To Cook Everything Vegetarian, I came across the recipe for No-Mayo Coleslaw (p. 49).  Along with the coleslaw recipe was a Mexican variation.  I had some cilantro and limes on hand, so I decided to give it a shot.  After all, I had to use the cabbage for something!
The slaw turned out to be great, and I loved the lack of mayonnaise.  It was tangy and light, and unlike all of the other slaws I made this summer!  If you're looking for something different, give this one a try.
Before I get to the slaw recipe, though, here's another one of my tips and tricks.  This probably isn't new to many of you, but I thought I'd throw it in here just in case.
This tip is about how to wash, dry, and store fresh herbs.  I grow many fresh herbs in my garden, and I love to just go out back and pick some herbs as I am cooking.  However, I can never seem to grow cilantro. So, it is one of the few herbs that I buy at the store.  When I bring it home, I rinse it and then use my salad spinner to make sure the cilantro is nice and dry. Then, I wrap the cilantro with a paper towel (to absorb any moisture) and store it in some tupperware in the fridge.  The cilantro stays fresh and is ready to use whenever I want it!  The same technique works with many other herbs, too. It's not that much of a stretch to use your salad spinner for herbs, but I thought it was worth mentioning.
Ok, without any further ado, the mayo-less slaw recipe…
Mayo-less Mexican Slaw
(Adapted from Spicy No-Mayo Coleslaw in How To Cook Everything Vegetarian, p. 49)
1 small head cabbage, thinly sliced
2 carrots, peeled and shredded
1 small red onion, thinly sliced
2 tablespoons dijon mustard
1 lime, zest and juice
1 jalapeño, seeded and diced
1 teaspoon cumin
Kosher salt
Freshly ground pepper
1/4 cup extra virgin olive oil
Handful cilantro leaves, chopped
In a large bowl, combine the thinly sliced cabbage, shredded carrots, and thinly sliced red onion.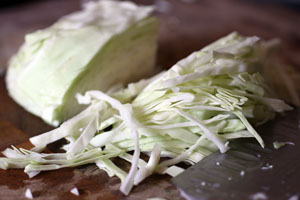 In a separate small bowl, whisk together the mustard, lime juice, lime zest, jalapeño, cumin.  Season with some salt and pepper.  Gradually add the olive oil, whisking until the mixture is smooth.
Pour the dressing over the cabbage mixture, and toss to evenly coat.  Refrigerate for at least 30 minutes.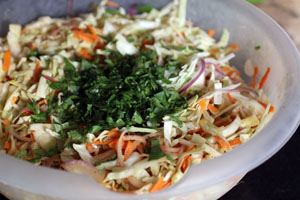 Right before serving the slaw, add the chopped cilantro and mix into the cole slaw. Garnish with additional cilantro and lime slices, if desired.