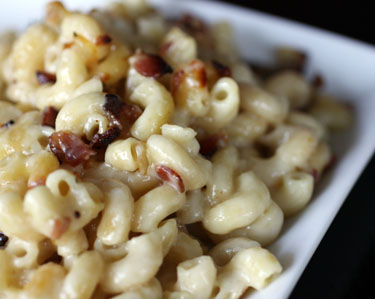 It's rough being married to a food blogger…  Just ask my husband.
Honestly, though, he's a really good sport when it comes to my food blog.  He is willing to try just about anything I make, and rarely complains about things that don't work out as planned.  He also puts up with my constant photographing (and the slightly cold food when the photo shoot takes longer than I hoped).  In fact, despite all of the photographing and some of the not-so-great recipes, he actually encourages it!
So, when he requests special recipes, I do my best to accommodate. One recipe that has been on his list is Tyler Florence's Ultimate Mac & Cheese.  On Saturday mornings, I often watch the Food Network while I clean or work in the kitchen.  One morning, my husband came strolling in as Tyler's Ultimate was on, and Tyler was making mac & cheese.  He's been asking for it ever since.
I must admit that this is not the first time I've made the dish.  I made it a few weeks ago when we had friends over for dinner, but I didn't bother to take pictures or blog about it.  Sometimes I just enjoy cooking and don't bother to get out the camera – especially when we are having friends over.  It went over so well, though, that I decided to make it again.
I'm not going to reprint the recipe, but you can find it over at the Food Network.  I followed the recipe pretty closely (hard to believe, I know).  The main changes that I made were that I left out the parsley (I didn't have any on hand), and I baked the mac & cheese with the bacon topping instead of adding the topping after baking.
To go with the mac & cheese, I decided to bake some of the beautiful green, pink, and orange heirloom tomatoes from our CSA.  I topped them with a little bit of olive oil, grated parmesan cheese, and some bread crumbs and baked them in the oven with the mac & cheese.  They were a perfect accompaniment for the rich macaroni!
Ultimate Mac & Cheese with Baked Heirloom Tomatoes
(View Tyler Florence's recipe for Mac 'N Cheese with Bacon and Cheese)
Start by preparing a box of macaroni, according to the package directions.  I used my favorite Barilla Plus (added protein and fiber are fine with me)!  While the macaroni was cooking, I put together the topping – sauteing bacon, onion, garlic, and thyme in a skillet.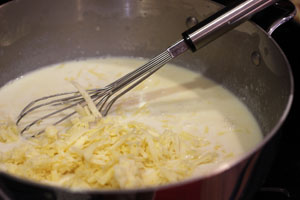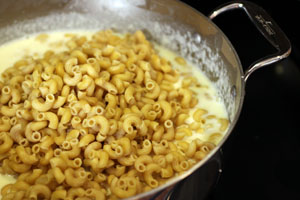 The sauce is made by first heating milk with crushed garlic and sprigs of thyme.  Then, the milk is used to make a basic cheese sauce, starting with a roux, whisking in the milk, and then adding the cheese.  I used sharp white Vermont cheddar. Simply add the cooked macaroni to the sauce, stir to combine, and then transfer to a large baking dish.
As I mentioned before, I added the sauteed bacon topping to the casserole prior to baking because I like the nice crispy crust it makes on the top of the mac & cheese.  After baking for 30 minutes, it was absolutely perfect and golden on top!
For my baked heirloom tomatoes, I simply cut the tomatoes into chunks and arranged them in a small baking dish.  I first drizzled them with olive oil and seasoned them with some Kosher salt and pepper.  Then, I just sprinkled them with some freshly grated Parmesan cheese and bread crumbs.  I don't know what the measurements were – this is one of those dishes where measuring really doesn't matter at all.
I baked the tomatoes for 30 minutes in the oven with the mac & cheese.  If desired, you could garnish with some additional Parmesan cheese and herbs.