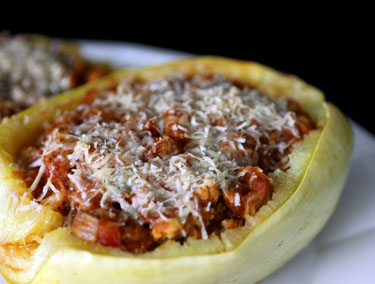 My yellow lab loves to help in the garden.  She chews on the weeds and helps me dig holes.  She also loves to help pick vegetables.
Yes, you heard me correctly… My dog loves her veggies!
Last summer, it was my cucumber plant that she ambushed.  This summer, she discovered squash… Yellow squash, spaghetti squash, pumpkins… She picks them all.  Unfortunately, once she picks them, she smashes them all over the yard and eats the insides, leaving a trail of squash skins.  Honestly, it's pretty funny to watch.  But, it can also be frustrating because she destroys my prized veggies from the garden.
Amazingly enough, we did manage to keep the furry garden helper away from about half of our spaghetti squash crop.  I really like spaghetti squash, but it can be somewhat bland.  So, I try to add lots of flavorful ingredients whenever I make it.  This time around, I decided to stuff the squash with Italian chicken sausage, peppers, and onions.  I almost skipped the photos of this one because I didn't expect it to be blog-worthy.  Fortunately, I ended up snapping a few pictures along the way, because this turned out to be one of my favorite spaghetti squash dishes to date (and I have made quite a few)!
Italian Stuffed Spaghetti Squash
1 medium spaghetti squash
1 tablespoon extra virgin olive oil
1 pound fresh Italian chicken sausage
1/2 cup bell pepper, diced (green and yellow)
1/2 cup onion, diced
1/4 cup red cherry pepper, minced
2 cloves garlic, minced
1 cup marinara sauce
1/4 cup Parmesan cheese, freshly grated
Preheat the oven to 375°F.
Cut the two ends off of the spaghetti squash, and cut in half lengthwise.  Scoop out the seeds and discard.  Place the squash halves cut side down in a large glass baking dish.  Cover with plastic wrap and microwave for 5 – 7 minutes, until soft.  Remove from the microwave, and use a fork to scrape out the insides of the squash, forming spaghetti-like strands. Transfer the squash strands to a bowl, and return the squash halves to the glass baking dish.
Meanwhile, heat the olive oil in a skillet over medium heat.  Remove the casings from the sausage, and brown in the skillet, breaking up the sausage as it cooks.  Once the sausage is browned, add the peppers, onion, and garlic. Continue to cook for an additional 4-5 minutes, until the vegetables are tender.
Add the reserved squash strands and the cup of marinara sauce.  Stir to combine with the sausage mixture, and cook for a few minutes until the mixture comes together and there is no excess moisture in the pan.
Fill each of the squash halves with the sausage mixture, and top with the grated Parmesan cheese.  Bake for 20 minutes, until the filling is hot and the cheese is melted and golden.  Serve immediately.