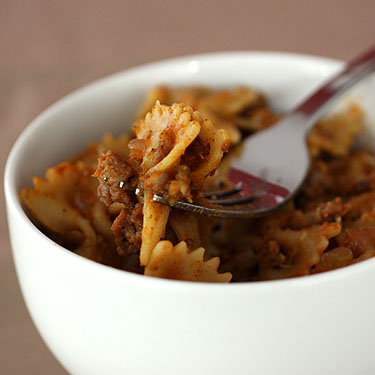 I wait all year for the fall. I know it sounds a bit crazy, but it's my favorite time of the year. I love the flavors, the weather, and the fact that the holidays are right around the corner!
Of all of the fall foods, I think pumpkin is my favorite.  Unfortunately, my husband doesn't agree.  With the exception of pumpkin roll, he could do without pumpkin entirely.  This pasta was no exception to the rule – I absolutely loved it, but my husband wasn't a huge fan (although he did eat it).  I had some maple sausage and pumpkin puree in the refrigerator, so pasta was the logical next step (at least for me).  Instead of adding cream or milk, I paired the pumpkin with some sweet white wine (both in the dish and to drink while I was cooking).  The resulting pasta was exactly what I had hoped for – light and flavorful with a hint of spice.
Farfalle with Sausage and Pumpkin
10 ounces farfalle (of course, I used Barilla Plus)
1 pound maple pork sausage (casings removed)
1 large sweet onion, diced
1 teaspoon rubbed sage
1/2 teaspoon cinnamon
Kosher salt
1 cup sweet white wine
1 cup pumpkin puree
Freshly grated parmigiano reggiano
Prepare the farfalle according to the package directions.  Drain and set aside.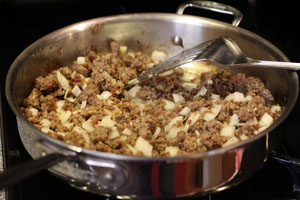 Meanwhile, in a large skillet, brown the sausage over medium heat.  Add the diced onion, rubbed sage, and cinnamon. Season with a small amount of salt.  Continue to cook for 3-4 minutes until the onions are soft.
Deglaze the pan with the white wine, scraping any bits off of the bottom of the pan.  Stir in the pumpkin puree forming a sauce with the white wine.  Simmer for a few minutes.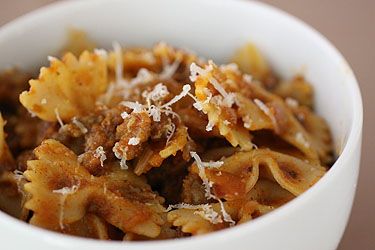 Add the cooked farfalle to the skillet, tossing to evenly coat the pasta with the sausage and pumpkin sauce.  Serve immediately topped with freshly grated parmigiano reggiano cheese.