Your mission, should you choose to accept it…   Create a dish using this week's Blogger Secret Ingredient (BSI) – Lime!
Last week, I got an email from Brandy over at Nutmeg Nanny asking me if I was interested in hosting this week's Blogger Secret Ingredient.  Naturally, I said yes!  I really enjoy participating in challenges…  I am always amazed by the creativity that they inspire, not to mention delicious dishes!
I had some difficulty deciding what this week's secret ingredient should be. I was tasked with picking something that has not been used in the past.  Many of my standby ingredients have been used already, such as black beans, corn, basil, bell peppers, and tomatoes.  I thought about choosing cilantro, but I know that it is a somewhat controversial ingredient, loved by some and hated by many.  Since I didn't want the secret ingredient to turn away potential participants, I decided to pick lime, cilantro's perfect partner (in my opinion).
To enter your recipe, please leave me a comment with a link to your blog post (your post should link back to this one).  I will leave a comment on your post so that you know that I saw your entry.  If you don't have a blog, but would still like to participate, send me a message via the Contact Form on my site (under Pages on the sidebar)… I will respond to the message so that you can e-mail me the details directly (sorry for the extra step, but I don't want all of the spam mail that results from posting my e-mail address on my site).
Please send me your entries by 4:00pm 8:00pm EST on Sunday, August 9th.  I will be picking a winner at that time, and posting a roundup of all of the entries later in the evening.  I will be sending the winner a small prize based on this week's ingredient and will prepare the winning recipe and feature the winning blogger and recipe here on my blog (with permission, of course).
A bit of inspiration…
I tend to keep a few limes on hand at all times – I never know when I am going to want to use one. I love to use lime zest and lime juice to brighten up savory dishes, especially in Latin or Asian inspired cuisine. I probably don't even need to mention that limes are delicious in all sorts of sweet dishes, perfect for the summer, such as pies, sorbets, and cookies.
I will also be making a new dish featuring lime… but in the meantime, here are a few of dishes for inspiration:
Chipotle Chicken Salad
Grilled Corn and Black Bean Salad
Easy Lime Pie
Peanut Chicken Pasta Salad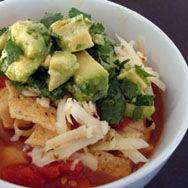 Chicken Tortilla Soup
Some background info…
This is the 42nd week of the Blogger Secret Ingredient challenge!  I am so honored to have joined the ranks of these other great challenge hosts…  Be sure to check out their blogs!
Week 42: My Kitchen Addiction – Lime
Week 41: Nutmeg Nanny – Coffee
Week 40: Chaya's Comfy Cook – Broccoli
Week 39: Healthy Delicious – Plums
Week 38: Zoe – Feta
Week 37: ChezWhat– Potatoes
Week 36: Cinnamon, Spice & Everything Nice – Blueberries
Week 35: Girlichef -Greens
Week 34: The Ungourmet – Watermelon
Week 33: Bread + Butter – Bell Pepper
Week 32: Burp and Slurp -Corn
Week 31: Say Yes to Salad – Kabocha
Week 30: Thinspired – Bananas
Week 29: To Be The Whole Package – Almonds
Week 28: Kristas Kravings – Lemon
Week 27: From French Fries To Flax Seeds – Coconut
Week 26: Plentiful Plants – Avocado
Week 25: Training Fuel – Eggs
Week 24: Dinner at Christina's – Cabbage
Week 23: Hey What's for Dinner, Mom? – Strawberries
Week 22: One Bite at a Time – Basil
Week 21: Just Sweet Enough – Black Beans
Week 20: What I Ate Yesterday – Kale
Week 19: What's for Dinner – Orange
Week 18: BranAppetit! –Spinach
Week 17: Tales of Expansion Dates
Week 16: Biggest Diabetic Loser – Zucchini
Week 15: Sweet & Natural –Peppermint
Week 14: bella eats [and runs] – Ginger
Week 13: Coffee Talk – Walnuts
Week 12: For the Love of Oats – Pumpkin
Week 11: Trying to Heal – Sweet Potatoes
Week 10: The Inner Workings of a College Graduate – Eggplant
Week 9: Itzy's Kitchen – Pears
Week 8: The Fitnessista – Cranberries
Week 7: Tri to Cook – Lentils
Week 6: Rhodey Girl Tests – Polenta
Week 5: Eating Bender – Butternut Squash
Week 4: Care to Eat – Apples
Week 3: On a Lobster Placemat – Mushrooms
Week 2: Hangry Pants – Tomatoes
Week 1: sportsnutritionliving – Quinoa