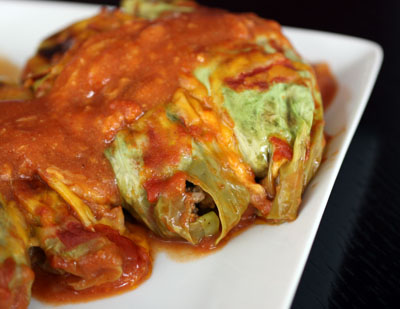 While this dish was inspired by my beef enchilada recipe, I am not going to try to tell you that cabbage rolls and enchiladas are the same thing. That's like those diet articles that say to substitute carrot sticks for french fries, a bowl of fruit for a chocolate muffin. If you really want the fries or the muffin, the carrot sticks and fruit probably won't do it for you.
However, if you are in the mood for some lighter Mexican fare, this dish just might do the trick.  While I enjoy fully loaded beef enchiladas made with flour tortillas, I wanted something a bit lighter this evening for dinner. I had a head of cabbage left from last week's CSA share.  So, I decided to make this Mexican-inspired version of cabbage rolls for dinner with lean ground beef and lots of veggies from the CSA and garden.  It was relatively light and absolutely delicious.  I will be making it again!
Mexican Cabbage Rolls
10-12 large cabbage leaves
1 tablespoon extra virgin olive oil
3 cloves garlic, divided, minced
2 tablespoons flour, divided
1 cup milk
1 – 14.5 ounce can tomato sauce
2 tablespoons chili powder, divided
4 teaspoons ground cumin, divided
1 pound lean ground beef (I used 90/10)
1/2 yellow sweet onion, diced
1/2 red bell pepper, diced
1/2 green bell pepper, diced
1 small yellow squash, diced
2 jalapeños, seeded and minced
2 tablespoons water
4 ounces cheddar cheese, shredded (I had both white and yellow, so I used a mix)
Preheat the oven to 375°F.  Spray a large baking dish with cooking spray and set aside.
Bring a large pot of salted water to a boil.  Cook the cabbage leaves, two or three at a time, for approximately 30 seconds.  The cabbage leaves will turn bright green in color and will soften.  Drain on a clean kitchen towel, and set aside.
In a sauce pan, heat one tablespoon of olive oil and one third of the minced garlic over medium heat until the garlic is fragrant.  Add one tablespoon of flour and whisk, cooking the flour for a minute. Add the cup of milk, and whisk to combine with the flour mixture. Bring to a boil, stirring occasionally. Reduce the heat to medium-low and add the tomato sauce, one tablespoon of chili powder, and two tablespoons of ground cumin.  Stir to combine, and simmer while preparing the filling.
Brown the beef in a large skillet over medium heat. Add the onion, red and green bell pepper, yellow squash, remaining garlic, and jalapeño.  Cook for 4-5 minutes until the vegetables are tender.  Add the remaining tablespoon of flour, remaining tablespoon of chili powder, and remaining two teaspoons of ground cumin.  Add the two tablespoons of water, and stir to combine. Reduce the heat to medium-low, and simmer for 5 minutes.
Ladle some of the tomato sauce into the baking dish, coating the entire bottom of the dish.  Spoon some of the beef mixture into the center of each cooked cabbage leaf.  Roll the cabbage leaf, tucking in the sides, similar to wrapping a burrito.  Place each cabbage roll in the baking dish.
Pour the remaining sauce over the cabbage rolls.  Sprinkle with the shredded cheese.
Bake uncovered for 25 minutes. Let stand for 10-15 minutes prior to serving.