When life hands you kale?  Make pasta, of course!
Last week we got our first CSA share. In it, there was a big bunch of kale. I tend to keep away from greens at the grocery store – kale, swiss chard,  bok choy, etc.  I never really knew what to do with them… and it's not something that I typically crave. Not until I made this pasta, that is.
When I saw that there was kale in our box of veggies, I did a bit of searching for recipes.  I saw quite a few recipes for kale sauteed in olive oil and garlic. Since it was also the first day of the Penny Pinching Pantry Raid, I wanted to make something out of ingredients I already had in the house. My pantry was stocked with lots of pasta, I decided to toss the kale with some whole wheat rigatoni and parmesan and romano cheese for an easy one-dish dinner.
I was pleasantly surprised with how the dish turned out.  The kale had a slightly bitter taste that blended well with the earthy, slightly nutty taste of the whole wheat pasta and the salty parmesan and romano cheeses.  It's a dish you can feel good about eating, too.  Like many other richly colored vegetables, kale is packed with antioxidants and nutrients.  Tossed with the fiber and protein rich whole wheat pasta, it's a filling and nutritious meal. You can be sure I will be making this again.  I am actually hoping for some more kale in this week's share!
Ingredients:
8 ounces whole wheat rigatoni
1-2 tablespoons extra virgin olive oil
2 cloves garlic, minced
Dash red pepper flakes
4 ounces kale, thick stems removed and chopped
2 small tomatoes, seeded and diced
Kosher salt
Freshly ground black pepper
Handful of grated parmesan and romano cheese
Directions:
Prepare the pasta according to the package directions.  Drain and set aside.
Meanwhile, heat the olive oil, garlic, and red pepper flakes in a large skillet over medium heat. If you add the garlic and the oil while the pan is cold and bring them up to temperature together, the flavor of the garlic will infuse the oil and it won't burn. As soon as the garlic is fragrant, add the kale and saute for 4-5 minutes.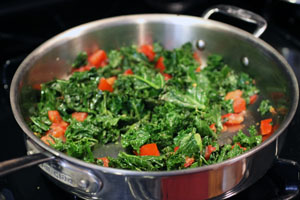 Add the tomatoes and season with salt and pepper.  Continue to saute for an additional 2-3 minutes.  Toss the pasta with the kale mixture, adding a handful of grated parmesan and romano cheese.  Stir to evenly coat all of the pasta.
Remove from the heat and serve immediately.  This recipe makes 2-3 servings.