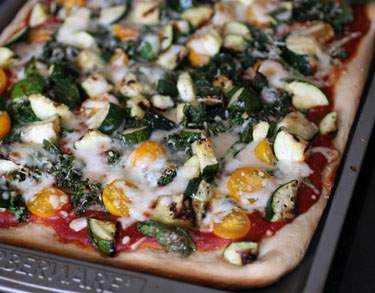 When posed with the challenge of finding something to make with the remaining veggies from my CSA share last week, I decided to make some pizza.  It seemed like a great way to use the remaining zucchini, kale, and cherry tomatoes.  Especially since I had all of the ingredients for homemade pizza dough and pizza sauce in my pantry and fridge.  The only thing I had to buy for this was some extra mozzarella cheese.  So, this was a perfect $100 challenge dish.  Did I mention that it was tasty, too?
I must warn you, though, that I didn't measure very well when I was making this pizza. My parents were coming over for dinner, so I was making this veggie pizza and a pepperoni pizza (for my hubby and dad, who weren't quite as thrilled by the veggie pizza idea as my mom and I were).  I made a large batch of pizza sauce and a double batch of my usual whole wheat pizza dough.  For the rest of the ingredients, just use what you have on hand…  cooking doesn't have to be an exact science!
Ingredients:
Pizza sauce (olive oil, garlic, dried basil, dried thyme, red pepper flakes, crushed tomatoes, salt, agave syrup)
2 zucchini, quartered lengthwise
1-2 cups kale, stems removed and chopped
1 cup golden cherry tomatoes, cut in half
1 clove garlic
Extra virgin olive oil
Kosher salt
Freshly ground black pepper
Red pepper flakes
Mozzarella cheese, shredded
Parmesan cheese, freshly grated
Directions:
Lightly grease a baking sheet, and spread the dough on the pan.  Cover with a damp towel, and let the dough rise for 25-30 minutes.  Preheat the oven to 450°F.
Meanwhile, drizzle the the zucchini spears with olive oil and season with salt and pepper.  Cook on the grill over medium heat for 2 minutes on each side.  Once the zucchini spears have cooled, cut into small chunks. Saute the kale in a tablespoon of olive oil with the clove of garlic, a pinch of red pepper flakes, and a pinch of salt.
Once the dough has risen, spread the pizza sauce over the dough.  Top with half of the mozzarella and parmesan cheeses. Spread the zucchini, kale, and tomato halves over the cheese.  Top with the remaining cheese.  Bake for about 15 minutes until the top is golden.