I remember it like it was yesterday… Mrs. Weist, my first grade teacher, handed out a coloring assignment with a long list of directions at the top. I immediately got to work, coloring furiously as I worked my way down the list of directions. About halfway down the list, though, I ran into trouble. One of the directions was to skip the first few steps, which I had already completed. Another step further down said to use a blue crayon for a step instead of a red crayon.
I was furious. What stupid directions! Why would you bother to write down steps that you would later skip over entirely? Poor directions aside, in an attempt to complete the assignment correctly, I started to color over my work with the white crayon, trying to erase what I had done. If you have ever tried to color over something with a white crayon, you can imagine how successful that was. My paper was a giant mess of smeared red crayon – no blue to be seen. Major FAIL!
Finally, I handed in my paper, and my teacher shook her head in disapproval. She gave me a bit of a lecture (she did that sometimes) on the importance of reading the directions in their entirety before beginning to work. Thinking back, I'm not even sure how much I could read in first grade, but that is not really relevant.
Needless to say, the moment scarred me, much like Mrs. Weist's other lectures and lessons (she was actually a nice teacher when she wasn't lecturing me). I also distinctly remember having to stay in from recess because I couldn't correctly write the letter 'a'. That is not relevant, either.
You may be wondering what this has to do with cooking, and rightfully so. It does, however, have everything to do with why I can't follow a recipe. Although I was scarred by the experience, I did not learn my lesson. I still tend to move full speed ahead without fully reading a recipe. So, I end up improvising quite often.
Enter this recipe for cajun bean soup! It started with a blog post for Spicy Red Bean Soup from Evil Shenanigans… I intended to make the recipe, as written, except for the pureeing part. However, I started chopping veggies before I started to read the recipe. I thought, "I know what veggies go in a cajun recipe" so I started chopping away. 3 cups of veggies later, I started to read the recipe. I had just about doubled the amounts in the recipe. I also discovered that I didn't have any bay leaves. So, I figured, I would just wing it. I like my soup with extra veggies, anyway. I also found a jar of my Cajun Spice Mix left in the pantry, so I decided to use that instead of the garlic and spices in the original recipe.
I'm sure the soup would have been delicious (perhaps better than mine) had I actually read and followed the original recipe. I must say, though, that my improvised version turned out to be pretty tasty! Perhaps that's why I never learn my lesson…
My Recipe for Cajun Bean Soup
(Adapted from Spicy Bean Soup by Kelly @ Evil Shenanigans… who adapted from Emeril Legasse via Food Network)
8 ounces andouille sausage, diced
1 tablespoon extra virgin olive oil
1 cup celery, diced
1 cup red and green bell pepper, diced
1 cup yellow onion, diced
1 tablespoon Cajun Spice Mix
3 – 15 ounce cans light red kidney beans, rinsed and drained
3 cups chicken stock
Heat a dutch oven or a large pot over medium-high heat. Add the diced sausage and cook for 4-5 minutes, until the fat has rendered and the sausage is browned. Remove the sausage from the pot with a slotted spoon and set aside.
Heat the olive oil in the bottom of the pot with the drippings from the sausage. Add the celery, bell peppers, onion, and spice mix.  Cook for about 5 minutes, stirring frequently, until the vegetables are tender.
Add the chicken stock to the pot, scraping any browned bits from the bottom.  Add the beans and bring the soup to a boil. Reduce the heat to medium-low and simmer for about 30 minutes.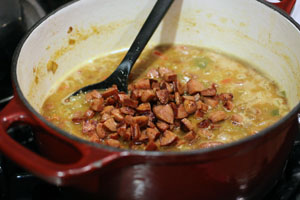 Turn off the heat and allow the soup to cool slightly. Use a hand-held immersion blender to blend the soup to your desired thickness. I prefer soups to be thick and chunky, so I only partially pureed the soup. If you like a smoother texture, by all means, have at it! Stir the sausage back into the soup (or use as a garnish if you pureed the soup).  Enjoy!