The July Daring Bakers' challenge was hosted by Nicole at Sweet Tooth. She chose Chocolate Covered Marshmallow Cookies and Milan Cookies from pastry chef Gale Gand of the Food Network.
I was excited this month when I saw that the Daring Bakers would be making cookies. I can trace my interest in cooking and baking back to baking cookies with my family, particularly my mom, for the holidays. To this day, I still love to bake cookies with friends and family.  So, I am always excited to discover a new cookie recipe (or in this case, two).
The challenge gave the option to make one or both of the recipes – I opted to make both.  In addition to my pictures and comments on the cookies, I have provided the links to the original recipes below.
Mallows (Chocolate Covered Marshmallow Cookies)
Recipe courtesy Gale Gand, from Food Network site
The mallows were a bit labor intensive, but I had an enjoyable time making them. I was especially excited to make them because the recipe included making homemade marshmallows, something I have wanted to do for a while. It was also the first time I have played with my new digital candy thermometer from Williams-Sonoma!
I'm not sure if I will make this exact recipe again – I wasn't thrilled with the taste of the cookie base.  I am sure that the concept will inspire a few of my own creations, though.  I am looking forward to making some homemade marshmallows again sometime soon!
First, mix the cookie dough.  Form a disk and wrap with plastic wrap.  Chill for at least one hour.
Then, roll out the dough and cut into circles using a 1 1/2 inch cookie cutter (or in my case, the back of a pastry tip).  The recipe made a few more than 2 dozen cookies (about 10-11 dozen, actually).  I'm not sure if I did something wrong, but they tasted fine!
Once the cookies have cooled, prepare the marshmallows.  Start by mixing corn syrup, sugar, and water in a sauce pan and cooking to soft ball stage. Dissolve gelatin into the syrup and add to whipped egg whites.  Beat until stiff.
Pipe the marshmallow mixture onto the cooled cookies.  Coat with chocolate (I used 60% Cacao Bittersweet Chips from Ghiradelli – one of my favorites).
Milan Cookies
Recipe courtesy Gale Gand, from Food Network site
The Milan Cookies are based on one of my favorite store bought cookies.  I must say, though, that I think I prefer the store bought version to this recipe. I found the lemon extract in the recipe to be just a bit overpowering in the cookies.  Next time I make them, I think I will use slightly less extract.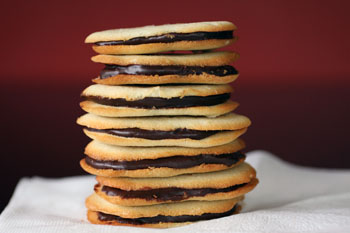 Overall, the cookies were pretty easy to make. I found that the cookies turned out better made a bit larger than the recipe called for, though.  Instead of using a 1/4 inch tip and piping one inch of batter for each cookie, I used a 1/2 inch round tip and piped closer to 2-3 inch lines onto the baking sheet.  The cookies turned out to be approximately the same size as the store bought cookies.  I did bake them for an extra minute or so to make sure they were done.
Prepare the batter in a mixer, then pipe the cookies onto a parchment paper lined cookie sheet.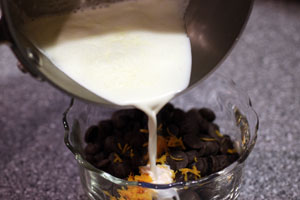 To prepare the filling, first scald the heavy cream.  Add to the chocolate (again, I used 60% Cacao Bittersweet Chips from Ghiradelli) and zest from one orange. Spread the mixture onto the flat side of one cookie, topping with a second cookie to form a sandwich.