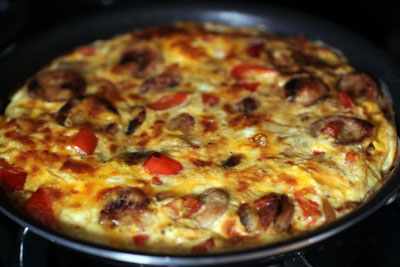 Earlier in the week, my husband went out of town for a few days.  I had to drop him off at the airport in the afternoon, so I decided to make a good hearty lunch for him so that he would have at least one good meal before the trip.  I guess that's my mother coming out in me.  Since I'm still participating in the Penny Pinching Pantry Raid challenge, I decided to use up some apple maple chicken sausage I had in the freezer.  It was delicious in the frittata – I love the flavor of the maple syrup contrasted with the slightly tart bits of apple.  Topped with some cheddar cheese, the frittata was a tasty and filling lunch for my hubby before his trip.
I've been making quite a few frittatas lately.  I enjoy eating eggs, and I find that they are a pretty versatile ingredient, lending themselves well to a variety of flavors. Because I can adjust them to whatever I have on hand, they have been a good standby meal during the $100 challenge. Plus, frittatas are much easier to make than an omlette – and no fancy flipping is required! This recipe would be delicious for breakfast, brunch, lunch or dinner!
Apple Maple Chicken Sausage Frittata
2 apple maple chicken sausages (I used Al Fresco), sliced
1 cup sweet red bell pepper, diced
1/2 cup yellow onion, diced
2 eggs
2 egg whites
1/2 cup cheddar cheese, shredded
1/4 cup skim milk
Kosher salt
Freshly ground black pepper
Spray a small (8 or 9 inch) nonstick skillet with cooking spray and heat over medium heat.  Add the sliced sausage and brown on all sides. Add the bell pepper and onion, and saute for 3-4 minutes, until the vegetables are tender.
Meanwhile, whisk together the eggs, egg whites, cheddar cheese, and milk in a separate bowl.
Reduce the heat on the skillet to medium-low.  Pour the egg mixture over the sauteed vegetables and sausage. Cover and cook for about 5 minutes.
Uncover and place the skillet under the broiler. Cook for an additional 5 minutes, until the top is set and golden.  Cut into wedges and serve immediately.