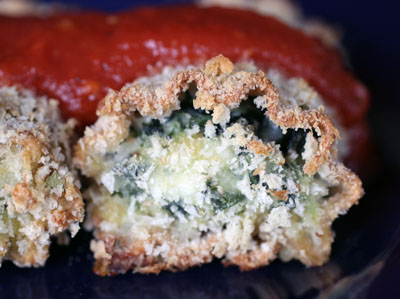 About two months ago, my husband and I ate dinner at the Olive Garden.  We don't eat there very often, and I know that many of the dishes aren't as authentic as they would like us to think. That aside, while we were there, we ordered an appetizer that was cheese filled lasagna noodles, breaded and deep fried.  They were served with both alfredo sauce and marinara sauce (alfredo on the plate, marinara on top, if I am remembering correctly).  I enjoyed the dish, but it was too rich for me. With the two sauces, multiple cheeses, and breading, I felt like there was too much going on in the dish.
So, I decided that I would try to recreate the dish my way at home.  Now, I must alert you to the fact that I very rarely deep fry anything in my kichen.  I have decided that frying is one culinary skill that I can do without (and am probably better off that way, too). Instead of frying the lasagna rolls, I simply breaded them and baked them in the oven.  I also added spinach to the filling to add some fiber and cut back on the amount of cheese.  I also omitted the alfredo sauce and simply served the rolls with marinara sauce.  Oh, and did I mention that I used whole wheat lasagna noodles?  Yup, that's right.
Earlier in the day, I  had mentioned to my husband that I was making the lasagna rolls for dinner.  However, as I was preparing the dish, making all of my healthy substitutions, I started to worry that he would not be too thrilled with my version of the dish.
Once the rolls came out of the oven, I gave him a small plate to taste while I was taking some photographs.  As he was eating, I commented that they probably weren't quite like the Olive Garden dish… but he responded saying that they just as good, if not better!  He also cleaned the plate and had seconds (and possibly even thirds)…  So, you don't have to take my word for it that these were delicious.  This recipe is highly recommended by my husband.  If only I could say that about everything I make!
Ingredients:
8-10 whole wheat lasagna noodles (this will give you a few extra in case any of the noodles tear)
10 ounces frozen chopped spinach, thawed and squeezed dry
1/2 cup part-skim ricotta cheese
1/2 cup low fat cottage cheese (I used 1%)
2 ounces part-skim mozzarella cheese, shredded
1 ounce freshly grated Parmesan cheese
2 eggs, slightly beaten
1 tablespoon skim milk
1/2 cup seasoned bread crumbs
1 cup panko bread crumbs
Kosher salt
Freshly ground black pepper
1 cup homemade marinara sauce
Directions:
Prepare the lasagna noodles according to the package directions.  Drain, cover with a moist kitchen towel, and set aside. It's OK if they dry out slightly because they will be easier to roll.
Meanwhile, combine the spinach, ricotta, cottage cheese, mozzarella, and Parmesan in a large bowl.  Season with salt and pepper.
Cut the lasagna noodles in half, and spoon a small amount of filling (about 1 1/2 tablespoons) onto each half noodle.  Roll the noodle around the filling, and place with the seam side down on a cutting board.
Preheat the oven to 425°F.  Prepare a baking sheet with aluminum foil and spray lighly with cooking spray.
While the oven is preheating, set out two shallow dishes for breading the lasagna rolls.  In one dish, combine the eggs and milk, seasoning with salt and pepper.  In the other dish, combine the seasoned bread crumbs and the panko bread crumbs.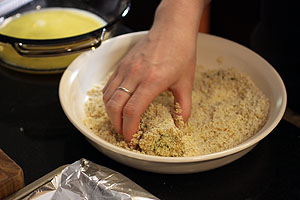 Dip each roll first in the egg mixture, and then in the bread crumbs mixture.  Be sure to coat the entire roll, including the ends.  Place the roll on the prepared baking sheet.  Repeat until all of the rolls are breaded.
Bake the rolls for 20 minutes.  Serve with warm marinara sauce.