Each time I make quesadillas, I am reminded of one of my favorite movies..
Napoleon: "Well what's there to eat?"

Grandma: "Knock it off, Napoleon, make yourself a dang quesadilla!"

Napoleon: "Fine!"
I have probably seen that movie 50 times, but I still laugh every time I watch it. And, I annoy everyone I know with quotes from the movie for at least a week.
Normally, I don't post video clips on my blog, but I thought this one was worth it. I am spreading the Napoleon Dynamite love so that now you will think of this video clip every time you make quesadillas, too! You can thank me later.
If you read my blog regularly, you have probably figured out that I make quesadillas quite often, and I love to make all varieties.  This recipe is one of my favorites, but I can't claim it as my own.  Last summer we had friends over for dinner, one of whom is vegetarian. As I was looking for a new vegetarian recipe, I came across Guy Fieri's Roasted Corn Quesadillas. Everyone loved the quesadillas – even the meat eaters in the group!
I have made the quesadillas quite a few times since I originally discovered the recipe.  My husband even requests them (which is why I made them this past weekend!).  So, I highly recommend you give these a try.  They are a delicious and satisfying way to get your family to eat more meatless meals!
Since I usually follow this recipe pretty closely (I know, it's hard to believe), I am not going to reprint it here. Please refer to the original recipe if you would like to make these yourself!  I will warn you, though, the chipotle cream is quite spicy, so you may want to start with just a little bit of the chipotle pepper in adobo and gradually add it to the sour cream to your desired level of heat.
One of the reasons that I like these quesadillas so much is the grilled corn.  I just can't get enough of the flavor of grilled corn. It is especially wonderful combined with roasted red peppers, onion, garlic, black beans, and tomatoes.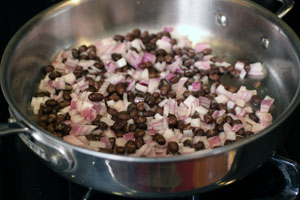 These quesadillas are easy to entertain with, as well, since they are baked in the oven.  Typically when I make quesadillas, I make them one at a time in a skillet or grill pan.  Instead of medium tortillas, as the recipe calls for, I use small (fajita size) tortillas.  That way, I can fit four on a baking sheet.  When I made them this weekend, I was able to get eight quesadillas out of the recipe.  I put both baking sheets in the oven at the same time, one on the top rack, and one on the bottom.  To ensure that they cooked evenly, I switched them from the top to the bottom rack, and vice versa, about halfway through cooking.
Even though the recipe says to cut the quesadillas into wedges to serve, I typically leave them whole.  I have tried cutting them in the past, but I find that the filling tends to spill out all over the cutting board.  Because they are made with the small tortillas, a whole quesadilla turns out to be a pretty good serving size!