Last week, I came across Natalie's Pre-Made Our Way challenge at Oven Love.  I am a big fan of making things from scratch, so I was immediately interested in participating in the challenges. Fortunately for me, Natalie extended the May challenge until Sunday (May 30th) so I was able to squeeze in my blog post in time!
The May challenge is to bake homemade Pop Tarts.  My first instinct was to make a smores pop tart – making a graham cracker flavored dough stuffed with marshmallow fluff and chocolate chips. However, when I was telling my husband about the challenge, he immediately said that he wanted raspberry Pop Tarts.  I think I might have given him a less than thrilled look since I already had my mind set on the smores variety.  However, after some consideration, I decided to use his raspberry idea.
When all was said and done, I ended up baking adult Pop Tarts with a raspberry filling made with some white chocolate liqueur.  Instead of making a glaze for the top, I melted some white chocolate chips and drizzled them over the baked Pop Tarts. I pretty much followed the original recipe for the dough.  You can view the original recipe by clicking on the badge below.  Overall, I was happy with how they turned out… my husband was pleased, as well.
Ingredients:
1 cup frozen raspberries
1 tablespoon sugar
1 tablespoon + 1 teaspoon water
1 teaspoon corn starch
2 tablespoons white chocolate liqueur
1 1/2 cups flour
1/2 teaspoon salt
1/2 cup (1 stick) unsalted butter, softened
4 tablespoons cold water
1/4 cup white chocolate chips
1 teaspoon shortening
Directions:
Preheat the oven to 450°F.  Lightly grease a baking sheet and set aside (or line with parchment paper… I would have done that, but it turns out I didn't have any on hand).
In a small sauce pan, combine the frozen raspberries, sugar, and 1 tablespoon of water. Heat over low heat to thaw out raspberries.  In a small dish, combine the remaining teaspoon of water and teaspoon of cornstarch, whisking to remove any lumps.  Add to the raspberry mixture.  Raise the temperature and bring to a boil.  Cook for about 1 minute.  Remove from heat, and stir in the white chocolate liqueur.  Set aside to cool while preparing the dough.
In a medium mixing bowl, combine the flour and salt.  Add the chunks of butter and mix with a pastry blender (or your fingers) until the mixture is crumbly.  Gradually add one tablespoon of cold water at a time, tossing with the butter and flour mixture. Continue to add water until all of the flour and butter mixture is moistened and a dough forms (approximately 4 tablespoons total).   Turn the dough onto a lightly floured surface and roll to 1/8 inch thickness.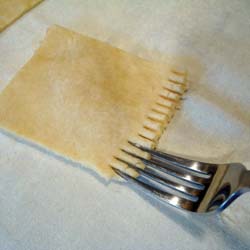 Cut the dough into rectangles (I think mine were about 3 inches by 4 inches).  Place a heaping tablespoon of the filling in the center of one rectangle of dough.  Cover with an additional rectangle, and seal the edges by crimping with a fork.  Repeat until all of the dough has been used (I was able to make 6 Pop Tarts).
Arrange the Pop Tarts on the prepared baking sheet, and bake for 7-8 minutes.  Allow the Pop Tarts to cool on the pan for a few minutes, and then transfer to wire racks to cool entirely.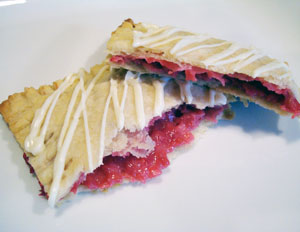 Once cooled, place the white chocolate chips and the teaspoon of shortening in a small microwaveable bowl.  Microwave at 50% power for 30 seconds at a time until the mixture is smooth and creamy. Drizzle the white chocolate over the cooled Pop Tarts.  Allow 5-10 minutes for the white chocolate to harden.