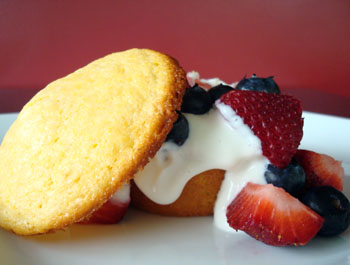 I originally wrote this post last evening, trying to sneak it in in the few minutes before it turned to Saturday.  However, my site went down right as I went to publish it.  That will teach me to leave my Friday Favorites to the last minute!  For the second week in a row, I am posting my Friday Favorites on a day other than Friday.  Next week I will try to do better!
Before I get to my favorite blog posts of the week, though, I would like to thank Stonyfield Farm for giving me the opportunity to try their organic Oikos Greek yogurt. To start, I picked up a container of the fat free honey flavored yogurt.  Before I use it in recipes, I wanted to try some on its own to get a good sense of the taste and texture of the yogurt.
This morning, I made some corn muffins…  I had a box of Jiffy corn muffin mix – one of the few things that I don't always make from scratch…  Not because it's difficult, but because I like the flavor of Jiffy corn muffin mix! I thought that the honey yogurt would be delicious with the corn muffins, so I had a muffin with some yogurt, fresh strawberries, and blueberries.  It was great, and I must say that I was pleasantly surprised for two reasons.  First, I am not typically a huge fan of fat free dairy products.  Second, I am not a big yogurt eater. The yogurt tastes quite creamy even though it is fat free.  I also liked the flavor quite a bit.  About halfway through eating my yogurt and muffin, I decided to drizzle it with a little bit of agave.  It didn't necessarily need it, but I had a suspicion that it would be a good combination, and it was!
So, in the next few weeks, I will be using the Stonyfield Oikos yogurt in some recipes (as well as eating some more for breakfast, because it was quite good)…  I am especially excited to try using the yogurt in some of my recipes because it is very good for you – and I think it will be a great substitute for sour cream, buttermilk, and mayonnaise.  Stay tuned for more healthy recipes.  Thanks Stonyfield!
Now, for my favorite blog posts of the week. I don't really have a theme this week…  just blog posts that I liked (thus the name Friday Favorites)!