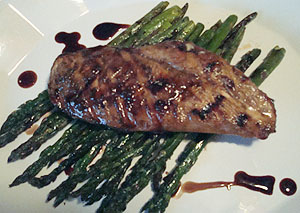 One of my favorite things about spring is getting the grill out! Even though I have a grill pan that I use all winter, there is just something about grilling outside.  I think I go through grill withdrawal during the winter, so as soon as the weather turns warm, I cook just about everything outside on the grill.
In Boston, I purchased some Rubio Aceta Balsamico di Modena (imported Balsamic vinegar). While taking the North End Market Tour, we learned about Balsamic vinegar and tasted this Rubio. As you probably know, most Balsamic vinegar that you purchase in the US really isn't Balsamic vinegar at all – it is simply cheap vinegar with sugar and caramel color added.  True Balsamic vinegar is certified and sealed by the government in Modena.  As a result, it is quite expensive – a small bottle can cost hundreds of dollars.
While  most of us cannot afford to purchase authentic Balsamic vinegar, there are some alternatives.  Be sure to look for grape must in the ingredients list!  Rubio Aceta Balsamico di Modena is not certified and sealed like authentic Balsamic vinegar, but it is the next best thing.  It is produced in Modena exclusively for Salumeria Italiana.  The Rubio is a bit cheaper than the authentic Balsamic vinegar – about $35 a bottle… and it is delicious!  I have been looking for an excuse to use it ever since I got home.  It is rich and sweet in flavor – perfect for some grilled chicken and asparagus!
Ingredients:
2 boneless chicken breasts, trimmed of any visible fat
1 bunch of asparagus, woody ends trimmed off
1 clove garlic, minced
Extra virgin Olive Oil
Balsamic vinegar
Kosher salt
Freshly ground pepper
Directions:
In a medium bowl, combine the minced garlic with one tablespoon of olive oil, one tablespoon of Balsamic vinegar, some Kosher salt and freshly ground pepper.  Add the two chicken breasts, and toss to coat evenly.  Marinate in the refrigerator for about 30 minutes.
Meanwhile, drizzle the asparagus with some olive oil and season with salt and pepper.  Set aside.
Preheat the grill to medium heat. Cook the asparagus on the grill in a grill basket until just tender.  Grill the chicken breasts for about 5 minutes on each side, until the internal temperature is 165°F.  Serve the chicken on a bed of aspargus, drizzled with some additional Balsamic vinegar.