One of my favorite things to do when I travel is to go for long walks and take pictures. While I was in Boston, I spent most of my afternoons walking around the city exploring.  While walking around Beacon Hill, I stopped in at Deluca's Market for an afternoon snack. In addition to fresh meats, cheeses, and pastries, they also had a selection of their own prepared foods. My husband is a barbeque sauce fanatic, so I decided to pick up a bottle of their barbeque sauce for him.
I love to make homemade pizza.  Recently I have been noticing a lot of menus including pizzas prepared with barbeque sauce instead of a typical marinara or pizza sauce.  So, since my husband is such a barbeque sauce fan, I thought it was only appropriate that I come up with my own barbeque pizza.  Another time when I make this, I may make my own barbeque sauce.  However, since I had the sauce from Deluca's Market, it only seemed fitting to use that on my pizza.
I made this pizza with my usual whole wheat pizza dough.  Feel free to use your favorite pizza dough recipe or pick up some prepared dough from your favorite local pizza shop!
Ingredients: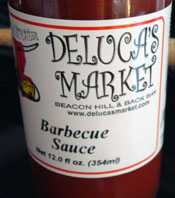 Whole wheat pizza dough (to cover a 15 inch pizza pan)
3 slices of bacon, diced
1/2 red onion, sliced
2 cups cooked chicken, shredded
1/2 cup + 1 tablespoon barbeque sauce, divided
8 ounces monterey jack cheese, shredded
Directions:
Preheat the oven to 450°F.  Grease a 15 inch pizza pan (or a baking sheet) and spread the pizza dough on the pan.  Set aside.
Cook the bacon in a small fry pan over medium heat for about 5 minutes.  Add the onion and cook for another 3-4 minutes, until tender. Remove the pan from the heat, and add the chicken and 1 tablespoon of the barbeque sauce.  Stir to combine.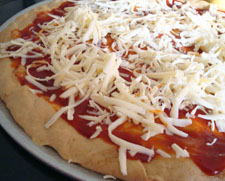 Top the pizza dough with the remaining 1/2 cup of barbeque sauce.  Sprinkle half of the cheese over the barbeque sauce.  Top with the chicken mixture, spreading evenly over the barbeque sauce and cheese.  Sprinkle with the remaining cheese.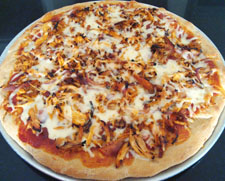 Bake for 12 minutes, until the cheese is bubbly and golden.