Now that I am home from Boston and cooking again, I decided that it was time to conquer an Asian dish for my Challenging Cuisine Challenge.  It has been very difficult to find authentic Asian ingredients at my local grocery store.  I am in the process of trying to find an Asian grocery store in the area. Meanwhile, I came up with a recipe that used some more familiar ingredients.  I am starting out a bit easy, but it's better than nothing – and better than out of a box!
Thai peanut chicken dishes are some of my favorite – just last week I ate at the Brown Sugar Cafe in Boston and had the chicken satay.  I didn't feel like digging out the skewers, so I made a grilled chicken instead of satay, but the flavors are similar.  All things considered, I was pleased with how it turned out.  My husband liked it too (which is always a good thing).
Thai Chicken Ingredients:
2 cloves garlic, minced (approximately 1 tablespoon)
1 tablespoon minced ginger
2 tablespoons cilantro, roughly chopped
1 tablespoon sugar
2 tablespoons soy sauce
1 tablespoon rice wine vinegar
1 pound boneless chicken tenders, trimmed of any visible fat
Peanut Sauce Ingredients:
1 tablespoon peanut oil
2 tablespoons minced ginger
2 tablespoons brown sugar
2 tablespoons soy sauce
1 – 14 ounce can of light coconut milk
3/4 cup of creamy peanut butter
1 tablespoon of Thai sweet chili sauce
Peanut Slaw Ingredients:
2 tablespoons grated ginger
1/2 cup creamy peanut butter
1/2 cup rice wine vinegar
2 tablespoons soy sauce
2 tablespoons Thai sweet chili sauce
1 tablespoon brown sugar
1 tablespoon mayonnaise
10 ounces of snap peas, thinly sliced
14 ounces shredded cabbage and carrots (I had a bag of cole slaw mix on hand, so I used that)
1/2 cup peanuts, roughly chopped
Directions:
First, prepare the marinade for the chicken – combine the garlic, ginger, cilantro, sugar, soy sauce, and rice wine vinegar in a large bowl.  Add the chicken, tossing to coat evenly.  Cover with plastic wrap and marinate in the refrigerator for at least 30 minutes.
Meanwhile, prepare the peanut slaw.  Mix the ginger, peanut butter, vinegar, soy sauce, Thai sweet chili sauce, brown sugar, and mayonnaise in a medium bowl.  Whisk the ingredients together until a creamy sauce forms.  In a large mixing bowl, combine the snap peas, shredded cabbage and carrots, and peanuts.  Pour the sauce over the mixture and toss to coat evenly.  Refrigerate to let the flavors combine.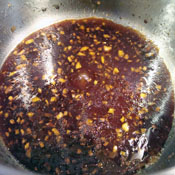 In a small sauce pan, saute the minced ginger (for the sauce) in the peanut oil over medium-low heat.  Once the ginger has cooked for 2-3 minutes, add the brown sugar, stirring to combine and allowing the sugar to begin to melt.  Add the soy sauce to fully dissolve the sugar. Add the coconut milk, peanut butter, and Thai sweet chili sauce.  Stir to combine all of the ingredients and bring to a soft boil.  Reduce the heat to low and stir occasionally while preparing the chicken.
Liberally spray a grill pan with cooking spray and preheat over medium heat.  Grill the chicken for 3-4 minutes on each side, ensuring that the chicken is cooked through (to 165°F).
Serve the chicken on a platter with the peanut sauce on the side.  Garnish the chicken and the slaw with additional chopped cilantro, if desired.
The recipe yielded more sauce than I needed, so I saved the leftovers in the refrigerator – I think I might try making a noodle dish with the remaining sauce.