Last week I took a trip to the market for fresh produce.  I don't have a good farmer's market near me, so I don't get to go too often.  So, when I do go, I stock up on all of my favorites.  While I was there, I picked up a bunch of bell peppers in assorted colors.  I decided to use the red bell peppers in this recipe.
I enjoy stuffed peppers because they are a one dish meal. I love that they have vegetables, grains, and protein all wrapped up in one pepper.  I have made a variety of different stuffed peppers in the past – this time I settled on an Italian-inspired stuffed pepper.  Enjoy!
Ingredients:
1 cup chicken stock
1/2 cup rice
2 red bell peppers, cut in half and seeds removed
1/2 pound Italian turkey sausage, casings removed
1 small onion, diced
1 clove garlic, minced
14.5 ounce can petite diced tomatoes, excess liquid drained
2 cups baby spinach, chopped
Kosher salt
Freshly ground pepper
1/4 cup mozzarella cheese
Directions:
Preheat the oven to 350°F.  Spray a baking dish with cooking spray and set aside.
Combine the chicken stock, water, and rice in a small sauce pan.  Bring to a boil, then reduce heat and simmer for 20-25 minutes until rice is tender.
While the rice is cooking, bring a large pot of water to boil.  Add the peppers and boil for 2-3 minutes.  Remove the peppers and set aside.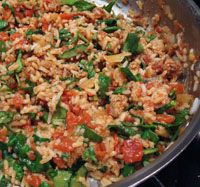 In a saute pan over medium heat, brown the Italian sausage, breaking up with a wooden spoon or spatula. Once the sausage is fully cooked, add the onion and garlic, and cook for 3-4 minutes, until the onions are tender.  Add the tomatoes and stir to combine.  Cook for a few minutes until the tomatoes are heated through and stir in the prepared rice.  Add the spinach and wilt into the sausage mixture.  Season with salt and pepper, to taste.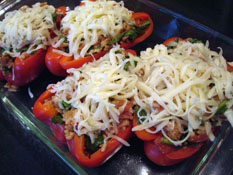 Arrange the pepper halves in the baking dish.  Fill each pepper half with the sausage and rice mixture and top with 1/4 of the mozzarella cheese.  Bake uncovered for 25-30 minutes, until the cheese is bubbly.