About a week ago, I was wandering down the pasta aisle at the store, hoping for some inspiration.  Sure enough, I spotted boxes of jumbo shells, and I decided to make these spinach stuffed shells.
I had fresh spinach in the refrigerator, so I chopped it up and used it in this recipe.  If you don't have fresh spinach on hand, you could easily use a package of frozen chopped spinach.  Just be sure to squeeze out all of the excess liquid.
Ingredients:
2 tablespoons extra virgin olive oil
2 small cloves garlic, minced
Pinch red pepper flakes
Pinch dried basil
Pinch dried thyme
28 ounce can crushed tomatoes
5 ounces fresh spinach, chopped
16 ounces part-skim ricotta cheese
2 ounces part-skim mozzarella cheese, shredded
1 ounce Parmesan cheese, grated
1 egg
6 ounces jumbo shells
Kosher salt
Freshly ground black pepper
Directions:
Cook the shells according to the package directions.  Drain and set aside.  Preheat the oven to 375°F.
Heat the olive oil in a small sauce pan over medium-low heat.  Add the garlic, red pepper, basil, and thyme. Cook until the garlic is fragrant.  Add the tomatoes and season with salt and pepper, to taste.  Simmer for 10-15 minutes.
Coat the bottom of a baking dish with half of the tomato sauce.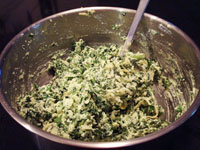 In a large bowl, combine the spinach, ricotta cheese, mozzarella cheese, Parmesan cheese, and egg.  Season with salt and pepper, to taste.  Mix well.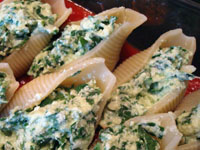 Transfer the mixture to a disposable plastic pastry bag or a large zipper bag.  Cut the tip off, and pipe the mixture into the prepared shells.  Arrange the shells in the bottom of the baking dish.
Pour the remaining tomato sauce over the shells.  Bake for 35-40 minutes, until the stuffing is bubbly.  Serve topped with additional Parmesan cheese, if desired.