I recently attended a Pampered Chef party where I purchased a silicone cupcake pan that makes 12 flower-shaped cupcakes – roses, daisies, and sunflowers.  So, this past weekend, I made miniature pound cakes with my new pan.
The pound cake recipe I used is based on the pound cake recipe that was passed down to me from my grandmother.  I have modified the recipe slightly, substituting buttermilk for the plain milk in the recipe.  The buttermilk helps to keep the cake moist and also makes the cake heavy and dense – just the way pound cake should be.
Ingredients:
1/2 cup unsalted butter, softened (1 stick)
1/2 cup shortening
2 cups flour
1 1/2 cups sugar
2 teaspoons baking powder
1/2 teaspoon salt
1/2 cup buttermilk
4 eggs
2 teaspoons vanilla extract
Directions: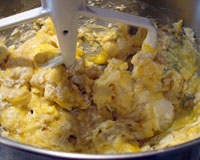 Combine all of the ingredients in the bowl of a stand mixer (or in a large mixing bowl, if not using a stand mixer).  This recipe is wonderful because you can throw all of the ingredients in the bowl at once!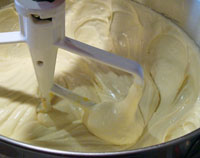 Fit the mixer with the beater, and beat on medium speed for 20 minutes (this can be done with a hand mixer, but your arm might get tired).
While the batter is mixing, preheat the oven to 350°F.  Prepare a cupcake pan with baking spray (or grease and flour the pan).  If you are using a silicone pan, be sure to use baking spray, even if the pan directions specify otherwise.  The first time I used this pan, I omitted the baking spray (following the directions that came with my pan), and the cupcakes didn't come out very well.
Once the batter has finished mixing, pour the batter into the cupcake pan, filling each cupcake cup approximately 2/3 full. Bake for approximately 20-25 minutes.
Cool the cupcakes in the pan for 10 minutes, then place a wire rack over the pan and invert the cupcakes onto the rack.  Cool entirely on the wire rack.  Dust with powdered sugar.
This recipe filled my cupcake pan (12 cupcakes) twice – making 24 miniature pound cakes. I served these with fresh berries and homemade vanilla ice cream.