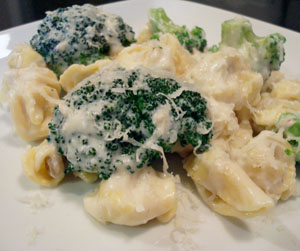 After my tour of Boston's North End, I did a little bit of shopping at Salumeria Italiana. Because I had to fly home the same evening, I wasn't able to purchase much.  I decided that pasta would fit easily into my suitcase without weighing it down.  The store had a wonderful assortment of artisan and commercial pastas imported from Italy.  I picked up a package of cheese tortellini.
Since I am a huge fan of broccoli, I decided to prepare the tortellini with some broccoli sauteed with garlic and red pepper flakes.  Topped with a quick garlic cream sauce, it was an easy one-dish dinner.  Authentic?  Probably not, but it was exactly what I was hungry for!
Ingredients:
10 ounce package of cheese tortellini
1 pound broccoli, cut into florets
2 tablespoons unsalted butter
3 tablespoons extra virgin olive oil, divided
3 cloves garlic
3 tablespoons Wondra flour
1 cup light half and half
1 cup skim milk
Kosher salt
Freshly ground black pepper
Pinch red pepper flakes
Freshly grated Parmesan cheese
Directions:
Bring a large pot of salted water to a boil and prepare the tortellini according to the package directions. Drain and set aside.
Meanwhile, in a small sauce pan over medium heat, melt the butter and add two tablespoons of olive oil.  Press two cloves of garlic (or finely mince) into the pan and saute for a minute or two, until the garlic is fragrant.  Add the Wondra flour and stir to combine.  Cook for a few minutes until the mixture is golden and the flour is cooked.  Add the half and half and the milk, and bring to a boil.  Remove from the heat and season with salt and pepper.
In a large fry pan over medium heat, saute the remaining clove of garlic, pressed or minced, and a pinch of red pepper flakes for a minute, until the garlic is fragrant.  Add the broccoli, and saute for an additional 4-5 minutes.  The broccoli should be bright green in color and tender – be careful not to overcook.
Once the broccoli is cooked, add the tortellini to the pan, tossing it with the broccoli.  Pour the sauce over the tortellini and broccoli and stir to evenly coat.  Serve immediately topped with freshly grated Parmesan cheese.