Meatloaf is another one of my favorite foods.  This meatloaf recipe is a bit lighter than most because it is made with ground turkey instead of beef, pork, or veal.
If you are short on time, you can mix up the meatloaf the night before and store the mixture in the refrigerator.  Pair this with a vegetable and your favorite potatoes for a satisfying dinner!
Ingredients:
1 tablespoon extra virgin olive oil
1 medium onion, chopped
Pinch of dried thyme leaves
Kosher salt
Ground black pepper
1/4 cup worcestershire sauce
1/4 cup chicken broth
1/2 cup barbeque sauce, divided
2 pounds ground turkey
1 large egg, beaten
3/4 cup breadcrumbs
1/4 cup french fried onions
Directions: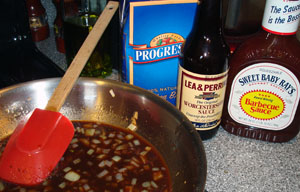 Heat the olive oil in a small fry pan over medium-low heat.  Add the onions to the pan.  Season with a pinch of dried thyme leaves, salt, and pepper.  Cook the onions for a few minutes until translucent.  Add the worcestershire sauce, chicken broth, and 1/4 cup of the barbeque sauce. Stir to combine.  Remove from heat and allow to cool.
Preheat the oven to 325°F. Spray a medium baking dish with cooking spray.
In a large bowl, combine the onion mixture, ground turkey, egg, and breadcrumbs. Shape the mixture into a large loaf, and place in the prepared baking dish. Bake for 45 minutes, or until the internal temperature reaches 160°F.  In the last 10 minutes of baking, top the meatloaf with the remaining 1/4 cup of barbeque sauce and sprinkle with the french fried onions.