When I think of cajun cooking, the first thing that comes to my mind is jumbalaya. It is made in one pot, combining meat, the trinity of vegetables – bell pepper, onion, and celery, spices, and rice.
This recipe is made with my cajun spice mix. The jumbalaya is quite spicy – I don't recommend making this if you aren't a fan of spicy food. However, if you enjoy a little spice, this dish is for you!
Ingredients:
1 tablespoon extra virgin olive oil
1 pound chicken breast, cut into 1 inch pieces
3/4 pound andouille sausage, diced
1 green bell pepper, chopped
1 onion, chopped
3 ribs celery, sliced
1 tablespoon cajun spice mix
2 cups chicken stock
1 cup long grain rice
Directions: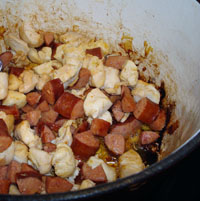 Heat the olive oil in a dutch oven over medium-high heat.  Add the chicken breast and andouille sausage and brown in the olive oil.
Add the pepper, onion, celery, and spice mix.  Saute for 4-6 minutes, until the vegetables are tender.
Add the chicken stock, scraping the browned bits from the bottom of the dutch oven.  Bring to a boil. Add the rice, reduce the heat to medium-low, and simmer for about 25 minutes.