My mocha espresso layer cake is one of my most popular recipes.  It is frequently requested by my family for holidays and birthdays. Most days, however, I don't want to bake and decorate a layer cake.  So, I scaled down the recipe a bit to make 12 cupcakes.
Mocha Cupcake Ingredients:
1 cup sugar
3/4 cup flour
1/2 cup cocoa powder
3/4 teaspoon baking powder
3/4 teaspoon baking soda
1/2 teaspoon salt
1 egg
1/2 cup milk
1/4 cup canola oil
1 teaspoon vanilla extract
1/2 cup hot coffee
Mocha Cupcake Directions:
Preheat the oven to 350°F. Line a muffin pan with paper or foil baking cups.
Combine the sugar, flour, cocoa powder, baking powder, baking soda, and salt in a large mixing bowl.  Add the egg, milk, oil, and vanilla.  Beat until smooth.  Add the coffee, and mix until combined.  The batter will be thin.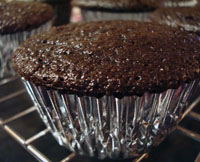 Fill the baking cups 3/4 full.  Bake for 20-25 minutes.  Cool for 10 minutes in the pan. Remove the cupcakes from the pan and cool completely on a wire rack.
Espresso Buttercream Icing Ingredients:
1/2 cup (1 stick) unsalted butter, softened
1/4 cup shortening
1 tablespoon instant espresso
1 tablespoon warm water
3-4 cups powdered sugar
1-2 tablespoons milk
(Note – temperature and humidity have an effect on icing consistency. Adjust the powdered sugar and milk accordingly)
Espresso Buttercream Icing Directions: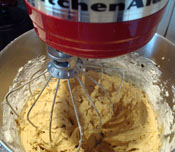 Combine the butter and shortening in a mixer bowl.  Beat with the whisk attachment.  Add 1 cup of the powdered sugar, beating until smooth.  Combine the espresso and water in a small bowl.  Add the espresso mixture to the mixer bowl, and beat until well combined.  Gradually add the remaining powdered sugar and milk until the icing is creamy.
Transfer the icing to a pastry bag fitted with a large open star pastry tip (I used Ateco #827). Pipe the icing onto each cupcake.  Top with shaved chocolate and dark chocolate shapes, if desired.