This weekend, I was reminded that it is still winter.  Sunday was a cold, windy day with flurries flying in the air – a perfect day for macaroni and cheese!
When I make macaroni and cheese, I often add cooked butternut squash.  It helps to thicken the sauce and makes the dish just a bit healthier.  It also gives the macaroni a wonderful golden color!  Look for frozen cooked squash in a square package (near the frozen spinach) at your grocery store.
Ingredients:
14.5 ounce box elbow macaroni (I use Barilla Plus)
2 cups skim milk
12 ounces frozen cooked squash
2 tablespoons Wondra flour
8 ounces cheddar cheese, shredded
1 tablespoon Dijon mustard
Salt and pepper, to taste
Directions:
Prepare the pasta according to the package directions.  Preheat the oven to 375°F.  Spray a casserole dish with cooking spray, and set aside.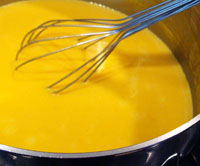 Heat the milk and squash in a large sauce pan over medium heat.  Stir occasionally until the squash has thawed and combines with the milk.  Add the Wondra flour and whisk into the milk mixture.  Bring to a bubble, and remove from heat.
Stir the Dijon mustard and cheddar cheese into the milk mixture.
Add the macaroni to the sauce and stir to evenly combine.  Pour the mixture into the casserole dish.
Bake uncovered for 20 minutes. Broil for an additional 1-2 minutes, until the top is bubbly and golden.