Here's another recipe using my Cajun spice mix.  These Cajun chicken burgers aren't quite as spicy as the jumbalaya recipe – and for a version with a little less heat, substitute plain mayonnaise for the creamy Cajun dip.
I have trouble finding good lean ground chicken at my grocery store.  They sell ground chicken, but it is typically not breast only meat.  So, instead of buying ground chicken, I just used two chicken breasts I had in the refrigerator.  Simply cut them into chunks and blend in the food processor!
Creamy Cajun Dip:
Combine the following ingredients in a small bowl and then chill in the refrigerator while preparing the burgers:
1/2 cup light mayonnaise
1/2 cup light sour cream
1 teaspoon Cajun spice mix
Cajun Burger Ingredients:
3/4 pound of ground chicken breast (or two medium chicken breasts, ground in food processor)
1 egg
1/2 cup breadcrumbs
2 teaspoons Cajun spice mix
Green leaf lettuce
Sliced tomato
Creamy Cajun dip (above)
Wheat rolls
Cajun Burger Directions:
Combine the ground chicken, egg, breadcrumbs, and Cajun spice mix in a mixing bowl.  Shape into burger patties (this will make two large burgers or three smaller burgers).
Brush a nonstick grill pan (or fry pan) with a small amount of oil, and preheat over medium heat.  Place the burger patties on the grill pan, cooking for about 5 minutes on each side.  Cook the burgers until an internal temperature of 160°F is reached.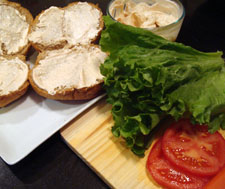 Spread the creamy Cajun dip on both sides of the wheat rolls.  Top with one burger, lettuce, and tomato.