While I love to cook, some evenings I just want a recipe that is quick and easy.   This quesadilla recipe uses leftover chicken breast (or a rotisserie chicken from your local market, if you prefer) for a quick weeknight dinner. Topped with fresh avocado salsa and sour cream, no one will suspect that this meal started out as leftovers!
Quesadilla Ingredients:
1 tablespoon extra virgin olive oil
1 cup red bell pepper, diced
1 cup green bell pepper, diced
1 cup red onion, diced
1 1/2 cups cooked chicken breast, diced
8 ounces colby jack cheese, shredded
12 small flour tortillas
Quesadilla Directions: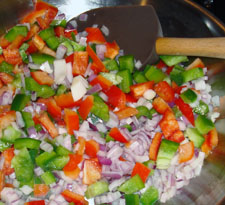 Heat olive oil in a small saute pan over medium-high heat.  Add bell peppers and onion and saute for 5 minutes.  Add chicken and cook for an additional minute to heat through.
Spray a nonstick panini pan (or nonstick fry pan) with cooking spray.  Over medium heat, add one tortilla, 1/6 of the chicken mixture, and 1/6 of the cheese.  Top with a second tortilla and apply the panini press to the top. 
(If you are using a fry pan, you can use a small baking pan or cookie sheet weighted down with a large can from the pantry.)  Cook for 2 minutes on each side.
Transfer the quesadilla to a cutting board and tent with aluminum foil to keep warm. Repeat for the remaining 5 quesadillas.
Salsa Ingredients:
1 medium tomato, diced
1 Hass avocado, diced
1/2 cup black beans, rinsed and drained
Juice from 1/2 of a lime
Kosher salt
S
alsa Directions:
Combine the tomato, avocado, and black beans in a bowl. Squeeze the lime juice over the mixture, season to taste with salt, and toss to coat evenly.
Bringing It All Together…
Cut each quesadilla into quarters. Arrange on a plate, and op with avocado salsa and sour cream. Enjoy!