Glazed ham and candied yams are two of my favorite holiday foods.  This quick and easy version of my festive favorites has been scaled down to serve 4-6, and can be made any night of the week!
Ingredients:
2 pound boneless, fully cooked ham
2 pounds yams, peeled and cut into 1″ pieces
1 1/4 cup orange juice, divided
3/4 cup brown sugar, divided
1/4 cup (4 tablespoons) butter
1 teaspoon cinnamon
1/2 teaspoon nutmeg
Dash salt
Dash ground cloves
Directions:
Preheat oven to 350°F.  Place the ham in a foil-lined pan, and pour 1 cup of the orange juice over the top of the ham. Cover with foil, and bake for about 30-45 minutes, or until the internal temperature reaches 140°F.
Meanwhile, combine the butter, 1/2 cup of the brown sugar, cinnamon, and nutmeg in a dutch oven over medium heat.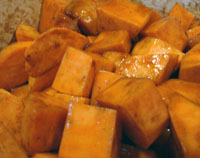 Once the butter is melted, and the ingredients are combined, add the yams and stir to evenly coat with the butter mixture.  Cook for 5 minutes, stirring frequently.  Season with salt.  Reduce heat to medium-low.  Partially cover, and cook for 30 minutes, stirring occasionally.
Once the ham is almost up to temperature, combine the remaining 1/4 cup of orange juice, 1/4 cup brown sugar, and a dash of ground cloves in a small sauce pan over medium heat.  Bring to a boil, reduce heat, and simmer for 5 minutes.  The glaze will thicken and have the consistency of syrup.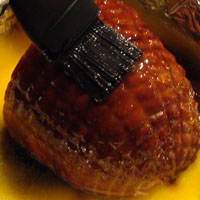 Remove the ham from the oven. Brush the glaze over the entire ham.  Return to the oven, and broil for 5 minutes, until the glaze becomes crispy.
Serving Recommendation:  Thinly slice the ham, and serve along side the candied yams and some steamed asparagus.